I hope Mr. Warren Sapp is surfing online and comes across this message, because it is from the heart.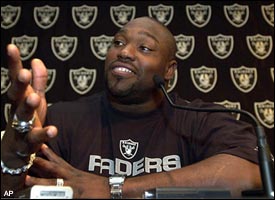 I just wanted to thank him for his time with the Oakland Raiders. Although he will most likely be remembered for his time as a Tampa Bay Buc where he had most of his success, he came to the Raiders wanting to play.
He came into Oakland like a villain, big and bold, and fit right in. It was a match made in heaven between the dark rebel team of the NFL and a player cut from the cloth of those larger-than-life Miami 'Canes teams.
Unlike a certain fly-by-night wide receiver who stole money from Al Davis, Mr. Sapp was the consummate professional. While defying his critics by continuing to introduce quarterback's rear ends to the unforgiving Colisseum turf, he served as a team leader that inspired the young talent on our team.
I'll miss him plugging up the middle humbling running backs, crushing sacks that cut hearts out of QB's chests and bringing a winning attitude to our team in our most desperate of times.
Although only four of his illustrious 13 years were spent in the Silver and Black, he will always be a Raider in my mind.
Thanks again, QB Killa!