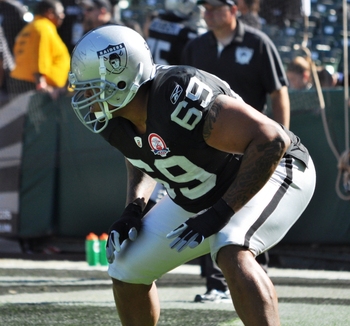 The Oakland Raiders are in no rush to sign anyone of the remaining unrestricted free agents in the league. They did, however, make a move to sign one of their own guys, offensive tackle Khalif Barnes.
So what does the signing of Barnes mean for the Raiders going forward?
Well, let's start from the start. Originally, Khalif was brought in to compete with Mario Henderson for the starting left tackle position. Unfortunately, at the beginning of training camp in 2009, he suffered a broken ankle.
Barnes would not return to the practice field until about week six of the regular season. By that time, the Raiders had also lost starting guard Robert Gallery to a broken Tibia. Things were not shaking out well.
The Raiders had made a trade early in the offseason of 2009 for former Dolphins starting center Samson Satele. While Satele did not get injured, he was having a problem adjusting to the zone blocking scheme of Tom Cable.
Cable had actively pursued Satele in the trade, because when Cable saw the 2007 draft class from which Satele came, Cable thought Satele was the best offensive lineman in the class.
The line was becoming a big time question mark by the time Khalif came back from his injury. During or around the same time, the Raiders lost starting right tackle Cornell Green to injury as well. He would end up missing a good portion of the middle of last season.
The Raiders asked Khalif to train with them as a right tackle, and also tried to get him involved as a left guard, to perhaps replace the loss of Gallery.
I know, it's all very confusing and complicated, but it is what it was…so to speak.
So soon after the Raiders tried to get Barnes to swap sides, reports surfaced that Barnes was complaining about the move. The speculation was that he did not want to play right tackle because they make significantly less money than left tackles that protect the quarterbacks blindside.
To the best of my knowledge, the rumors were never confirmed. It should also be noted that Barnes said after he was injured that he was told he'd be the starting left tackle regardless of the injury upon his return.
Amidst all the turmoil along the offensive front, the Raiders ultimately ended up calling upon the services of an old friend, former Raiders and Bills OT, Langston Walker.
Walker ended up bypassing all current Raiders lineman, and started a significant number of games at left guard in replacement of the oft injured Robert Gallery.
Whatever issues Barnes had with what went down last season, it seems that he, along with the coaching staff, have decided it would be in everyone's best interest to push the reset button on Barnes' stint with the Raiders.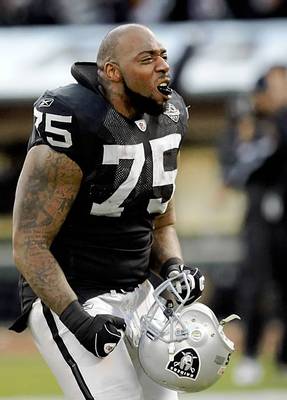 So now that we have a history, let's get back to the matter at hand…what are the Raiders going to do with two starting left tackles?
Will they still be prompted to pick another starting left tackle when the April draft rolls around?
Let's examine what we're working with here.
Khalif Barnes is was a second round pick in 2005 from the Washington Huskies. It didn't take him long to establish himself as the starting left tackle for the Jacksonville Jaguars. Remember back when they were good for a little while, yeah this guy was their starting left tackle, their staple, their anchor.
It's no wonder head coach Tom Cable wanted Barnes to be a part of the Raiders organization. In 64 opportunities, Barnes started in 57 games at that coveted position for the Jags. He has experience playing against some of the best defensive ends in the league twice a year.
We're talking Javon Kearse, Dwight Freeney, Robert Mathis, Kyle Vaden Bosch, and Mario Williams twice a year, if not more.
Barnes has played against these guys a lot in his career, and he is only turning 28 this year. You really can't blame the Raiders for wanting to get him back.
Let's talk about some of his accolades. From 2006-2007, the Jaguars led the NFL in rushing averaging 154.1 yards per game and scoring 46 rushing TD's on the legs of Fred Taylor and Mo-Jo Drew.
In 2007, the Jaguars led the league with six 50-plus yard runs, and ranked second in runs of 10-plus yards with 68. Khalif helped pave the way for a 4.7 average per rush, first in the AFC and third in the NFL. In 2007, they scored 28 TDs passing with only 8 INTs with Barnes protecting the quarterback's blindside.
Most of us remember the injury problems that the Jaguars had prior to the 2008 season. It's kind of hard to forget that three of their five starting linemen went on IR before the regular season even started.
The reason Barnes was cut from the Jags was simply that they wanted to rebuild their line…the whole thing.
Now let's talk about Mario Henderson. Henderson is Al Davis' pet project on the Oakland front line. I guess technically, he is one of Tom Cable's projects too.
The Oakland Raiders selected Florida State OT Mario Henderson in the third round of the 2007 NFL Draft. The 6'7", 310-pound Henderson played in 28 of a possible 51 games during his career at Florida State. In 2006, he played in all 13 games on the offensive line.
Graduated from Lehigh High School in 2002 and he was rated a three-star player by Rivals.com and one of the top 40 rated offensive guards in the country. He was one of Florida's Top 100 according to the Orlando Sentinel and earned all-district, all-region, and all-county honors as a senior in leading his team to an 8-3 record.
Many o us expected Henderson to secure his spot as the franchise left tackle last season. Whether due to injuries to his teammates, or his own personal problems, he was unable to do so in some people's opinion.
Many of the fine folks in Raider Nation think Henderson can't handle the left side, but would make a fine right tackle for the Raiders. If you asked me, I'd tell you that Henderson had a great end to the 2008 season, and a fine start to the 2009 season.
It's my opinion that he tried to overcompensate for the absence of his fellow starting offensive line teammates, and that's where he got into trouble last year. I think he is a solid option for either right or left tackle.
For what it's worth, I think Khalif Barnes is a solid option for either side as well. And frankly, I'm not convinced that a starting tackle is the right way to go for the Oakland Raiders number eight pick in the 2010 NFL draft.
Perhaps the Raiders actually need a starting guard more than they need a starting tackle. With the constant injuries to Robert Gallery last year, starting with appendicitis, then the broken tibia, and finally a back injury that was not "career threatening" but required season ending surgery. Couple that with the fact that Cooper Carlisle is not the same guard he was when he came to the Raiders three years ago, and he is not going to get better with age.
Maybe Idaho Vandals guard Mike Iupati right choice for Oakland at 8. Or Iowa tackle Brian Bulaga, who many folks consider to translate nicely to a high caliber NFL guard is the right choice at eight oveall.
Or maybe the right move is to say, "Ok, we're good at tackle, let's take the best guard on the board in the second round." Those choices would likely include either Illinois guard Jon Asamoah or Mississippi's John Jerry.
Now, Oakland Raiders fans post your comments and convince me that the Raiders have to take a franchise left tackle with their first pick in the draft.