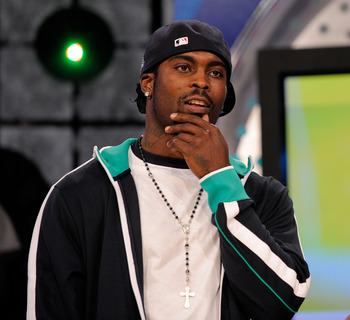 Some teams have penciled in possibly shaky candidates as their starting quarterback. Some are coming in with virtually no experience as a starter, others have been iffy in the times they did start, while others seem to be on their last chance.
Every year a starter loses his job in the NFL, and the 2010 season will most likely not be any different.
Which one will be first to get replaced?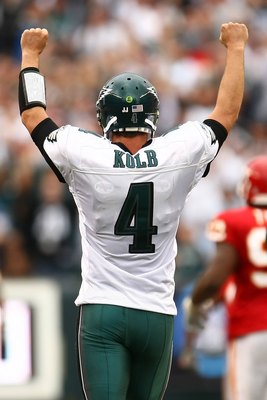 Kevin Kolb is replacing possibly the greatest Eagles quarterback ever in the recently traded Donovan McNabb. He will have three -time Pro Bowler Michael Vick, who hasn't started a full season since 2006, breathing down his neck.
It won't take long for the Eagles fans to become "Boo Birds" if the kid plays poorly, and scream for head coach Andy Reid to plug in Vick.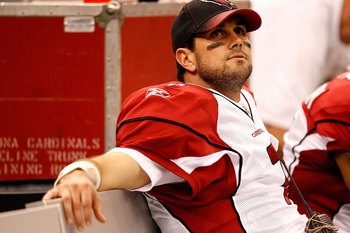 Matt Leinart has been anything but impressive since the Arizona Cardinals drafted him in the first round of the 2006 NFL Draft, the tenth overall pick.
Veteran Derek Anderson was a Pro Bowler in 2007, but he was recently picked up by Arizona. Anderson has the ability to slide into the Cardinals offensive system nicely, so Leinart best be looking over his shoulder all season.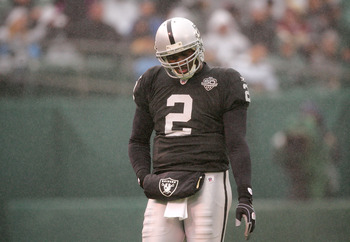 JaMarcus Russell recently showed up at the Oakland Raiders offices about a Whopper short of 300 lbs. Not what the team expected.
Journeyman Bruce Gradkowski has a lot of Raiders Nation wanting him to replace the first overall pick of the 2007 NFL Draft, mainly because they view Russell as complacent and not a leader.
This could be a soap opera worth watching in the 2010 season.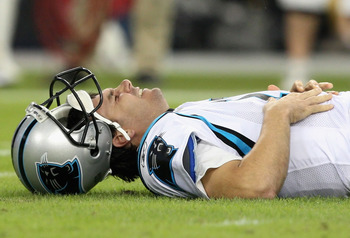 The Cleveland Browns basically rid themselves of their 2009 quarterbacks, Derek Anderson and Brady Quinn, for a new group of veterans.
Jake Delhomme spent seven seasons with the Carolina Panthers, leading them to a Super Bowl and two NFC Championship appearances. He also made one Pro Bowl.
His erratic play and extremely poor 2009 season found him a one way ticket out of town, and now the Browns are banking on him. Just in case he falters, they have veteran Seneca Wallace waiting in the wings. Wallace has started 14 games over five years.
Does anyone, including the Browns coaches, know how this will play out?
Matt Moore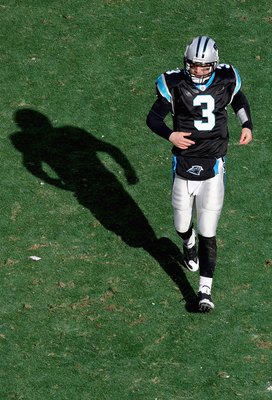 Moore has been called on to replace the recently departed Delhomme. He has started eight games over two seasons, and so far has little to no competition in training camp.
First year pro Hunter Cantwell is the only other quarterback currently under contract by the Panthers, which is a risky proposition. The team may draft more players or look at the waiver wire.
There was once a time the Buccaneers had about six guys who could start on their roster. Now it appears Freeman is the only one, having been drafted in the first round of the 2009 NFL Draft.
Veterans Josh Johnson and Byron Leftwich will be waiting in the wings if the youngster falters.
Alex Smith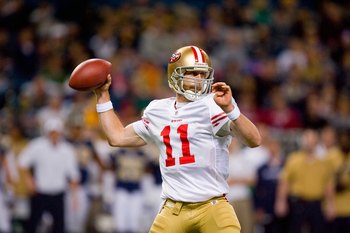 Smith has been a mystery since being drafted as the first overall pick in the 2005 NFL Draft. He has mostly played poorly, but had a few moments in 2009.
Gone is 2009 opening day starter Shaun Hill, but he has been replaced on the roster by veteran David Carr. Carr was the first overall pick of the 2002 NFL Draft before being sacked out of a job with the Houston Texans in 2006. He is now on his fourth team.
Nate Davis is a youngster to watch as well, now that the Niners have bolstered their receiving corps by trading for wide receiver Tedd Ginn.
If Smith reverts to the player the team was frustrated by for so many years, a change could be eminent.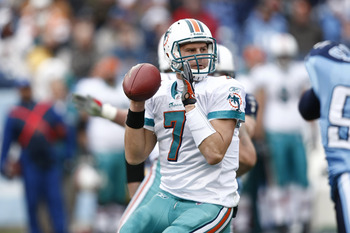 Henne was called into action before Miami wanted after starter Chad Pennington was injured last season.
Not only is Pennington back, but the Dolphins have added veteran Tyler Thigpen to the depth chart. Pat White enters his second season, but he threw just five incomplete passes last year and is not considered a prospect to start yet.
Thigpen, however, has started in 11 of the 14 games he has played in his four NFL seasons. If Pennington is done as a player, he could very well be the guy Miami calls on if Henne plays poorly. He might be anyways, regardless of Pennington's health.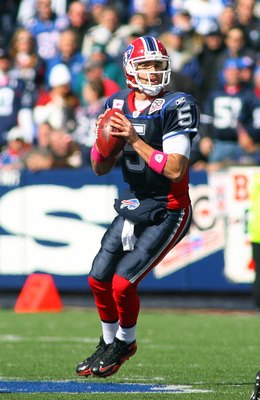 Edwards cannot stay healthy, and the Bills are losing patience. Journeyman Ryan Fitzpatrick played most of the 2009 season in his place, but Buffalo would prefer an upgrade.
They are rumored to be interested in Jason Campbell, who the Washington Redskins purportedly have on the trading block.
They could very well use their 2010 first round draft pick on a quarterback as well.
Stay tuned.