Quarterback : Ken Stabler



6'3 215
Quarterback
Oakland Raiders
1970 - 1984
15 Seasons
184 Games Played
1974 NFL MVP
1976 Bert Bell Award
4 Pro Bowls
NFL 1970's All-Decade Team

Stabler was a second round draft pick of the Oakland Raiders in 1968. He joined the Spokane Shockers of the Continental Football League for two seasons until the league folded. The 1970 season was his first with the Raiders.

Daryle Lamonica was the starting quarterback for Oakland. Stabler mostly sat on the bench the first three years of his NFL career, but was called into action during a playoff game against the Pittsburgh Steelers in 1972 after Lamonica was injured.

Lamonica had been ineffective up until that point, and Pittsburgh led 6-0 in the fourth quarter. Stabler was slightly more effective as a passer, but a 30-yard scoring scamper put the Raiders up 7-6 late into the game. This set the stage for the "Immaculate Reception", when Hall of Fame running back Franco Harris took a deflected pass 60 yards for the winning touchdown.

Stabler went to his first Pro Bowl in 1973. After Lamonica started the first three games of the season, Stabler replaced him and lost just twice the rest of the way while leading the NFL in completion percentage. Oakland reached the AFC Championship Game before losing to the eventual champion Miami Dolphins.

Now firmly entrenched as the starter, Stabler had perhaps his finest season in 1974 by winning the NFL MVP Award. He was given his only First Team All-Pro honor and went to the Pro Bowl after leading the NFL in touchdown passes, touchdown percentage, adjusted yards per pass attempt, net yards per attempt, and adjusted net yards per pass attempt.

He was far from sharp the next year, throwing eight more interceptions than touchdowns, but lost just three times. He rebounded in 1976 by leading the NFL with career best marks on touchdown passes, completion percentage, touchdown percentage, yards gained per pass attempt, net yards per pass attempt, quarterback rating, and longest pass.

His excellence and leadership was crucial, tossing the ball to Hall of Famers like Fred Biletnikoff and Dave Caspar, along with Pro Bowler Cliff Branch. Coupled with Pro Bowl fullback Mark van Eeghen's 1,012 rushing yards, the Raiders went on to win Super Bowl XI. Stabler won the Bert Bell Award and the very last Hickok Belt.

After his last Pro Bowl season in 1977, the Raiders and Stabler's play started to dwindle. After two more years with the team, he was traded to the Houston Oilers for Dan Pastorini. He played poorly, tossing 19 more interceptions than touchdowns in his two seasons with Houston.

He joined the New Orleans Saints in 1982, but spent three ineffective seasons there before retiring. He still holds the Raiders franchise records for passing yards, touchdown passes, and interceptions for a career. His 30 interception tossed in 1978 is also a team record.

There are many NFL fans who believe Stabler belongs in Canton. Nicknamed "Snake" for a long winding touchdown run in high school, he did win 69 of 93 starts with Oakland. Detractors will point out Lamonica won just seven less game while losing ten fewer times. Lamonica threw 28 less interceptions and just two fewer touchdowns while garnering one more Pro Bowl and First Team All-Pro nod than Stabler.

There are fans who think Ken Anderson deserves induction ahead of Stabler. Though Anderson never won a Super Bowl, he threw 47 more touchdowns and just 17 more interceptions with a slightly higher quarterback rating than the "Snake".

Yet Stabler won five more games and lost 32 fewer games. He had that rare intangible of willing his team to victory in spite of the statistics. He won more games and had fewer losses than such Hall of Fame quarterbacks like Len Dawson, Bart Starr, Dan Fouts, Sonny Jurgensen, Troy Aikman, Joe Namath, Norm Van Brocklin, and Bob Griese. He also had more wins than Steve Young and Roger Staubach, amongst others.

Stabler was a winner, despite just one Super Bowl appearance and with with Oakland before his career bottomed out with Houston and New Orleans. He helped make the Raiders a yearly powerhouse throughout the 1970's. The "Snake" had a gift you could not coach.

He is one of just two quarterbacks on NFL All-Decade Teams not yet inducted. Stabler has been a finalist three times and a semi-finalist six times. It seems inevitable that he will one day find his place in the Pro Football Hall of Fame.

Cecil Isbell is the only other quarterback on an NFL All-Decade Team not inducted into the Pro Football Hall of Fame.




Fullback : Cookie Gilchrist



6'3" 251
Fullback
Buffalo Bills
1962 - 1967
Six Seasons
65 Games Played
4 Pro Bowls
AFL All-Time Team

Gilchrist was signed by the Cleveland Browns at 18-years old in 1953 after completing his junior year in high school. When the NFL deemed the contract illegal, Cleveland owner Paul Brown reneged on his promise to Gilchrist, so the youngster left the teams training camp.

He headed to Canada and began playing rugby, where he was the MVP of his team in each year he played. Gilchrist the joined the Canadian Football League and soon became a legend. He was an All-Star in five of his six seasons with the CFL as both a running back and linebacker.

The Buffalo Bills, of the American Football League, attempted to woo Heisman Trophy winner Ernie Davis in 1962, but Davis chose to play with the Cleveland Browns of the NFL. Buffalo then signed Gilchrist, a move that benefited them immediately.

Gilchrist became the first 1,000-yard rusher in AFL history, leading the league with 1,096 yards at am impressive 5.1 yards per carry average. He also set an AFL record with 13 rushing touchdowns that went unbroken the entire time the league existed.

Besides leading the AFL with a 78.3 yards per game average, he caught 24 balls for two scores and handle the place kicking duties. He made eight field goals and 14 extra points. The 128 points he scored that season was a team record until O.J. Simpson surpassed it in 1975. Gilchrist was named First Team All-Pro, AFL All-Star, and AFL MVP.

The next three seasons saw Gilchrist lead the AFL in rushing attempts and be named an AFL All-Star each year. He led the league in rushing yards and rushing yards per game once. He also led the AFL in rushing touchdowns three times, while being named First Team All-Pro two more times.

After helping lead the Bills to a championship in 1964, he was waived, after a contract dispute, and claimed by the Denver Broncos in 1965. There he enjoyed his last All-Star season with the Broncos. Joining the expansion Miami Dolphins in 1966, Gilchrist got injured and missed six games. He tried to play for Denver the following season, appearing in one game, before retiring.

In a stretch of 10 straight seasons, Gilchrist was named an All-Star each time in both the CFL and AFL, let alone the two previous seasons he was a MVP in his rugby league. He is the only person to have accomplished this. What makes his success even more impressive was due to the era he played.

Bigotry was prevalent during this time. So much that Gilchrist refused induction into the CFL Hall of Fame, citing the bigotry he encountered in the CFL as the reason. He led a boycott of the AFL All-Star Game being played in the Louisiana Superdome. The AFL relented, moving the game to Houston.

Gilchrist also had a long running disagreement with Bills owner Ralph Wilson that was not reconciled until a week before Gilchrist died of cancer in 2010. Gilchrist wanted a pay raise in 1964 after Buffalo won their first championship.

"I wanted a percentage of the hot dog sales, the popcorn, the parking and the ticket sales," Gilchrist recalled once. "Lou Saban, the Bills head coach, said that would make me part owner of the team. I was a marked man after that."

Bills legend Booker Edgerson said it best. "He was very outspoken," said the former cornerback now on the Bills Wall of Fame. "He understood the economics and the monetary value of a player. He expressed himself, and that got him in trouble a lot.

He was already in trouble with the team in 1964, having refused to go back into a game where Buffalo was throwing ball nearly every down. He reportedly said 'They're not giving me the ball, so why the hell should I play?'

The coaches were ready to cut him, but quarterback Jack Kemp coerced them to keep Gilchrist. This move paid off, helping the Bills win their first title. He ran for 122 yards in the championship game.

He ran for 31 touchdowns over three seasons, which still ranks third behind Hall of Famers O.J. Simpson and Thurman Thomas as the most ever in Bills history. He still has the team record for five rushing scores in one game, where he also had 243 yards. Simpson broke that record in 1973 with 250 . Gilchrist averaged 4.5 yards per carry in his Bills career, which is second best behind Simpson.

He is one of the few men to have played modern professional football without having attended college. Van Miller, the "Voice of the Bills", says Gilchrist was the most explosive player Buffalo ever had.

When he was the teams kicker, he was also their wedge buster. His first kickoff as Bill saw him bury the returner inside the 15-yard line. He lobbied to play linebacker on defense, in order to double his salary, but Wilson and Saban shot that idea down.

Buffalo has yet to put him on their Wall of Fame. A big reason was his dispute with Wilson, who is known to hold a grudge. Wilson has kept Saban off the Wall of Fame over their own dispute. When offered, Gilchrist wanted to be paid an appearance fee. By the time he dropped his demands, he passed away.

Expect his inclusion soon now that he and Wilson reportedly reconciled. He is also the starting fullback on the AFL All-Time Team. On a franchise that has a deep and rich history of running backs, Gilchrist is the best fullback to have ever played for the Bills.

Even though the building in Canton says Pro Football Hall of Fame, it is unlikely the "Cookie Monster" will ever get inducted. Never mind the fact he was an All-Star 10 straight years in professional football, critics will point to his lack of years played in the AFL.

Most observers already know the AFL gets so very little respect in Canton, mainly because their success forced a merger after years of the NFL calling the AFL a "Mickey Mouse outfit with inferior players". The Canadian Football League gets even less respect, with only four men inducted into Canton with CFL ties.

But the impact of Gilchrist goes far beyond his actual achievements on the gridiron. His work for Civil Rights were more important, helping open eyes and avenues. His refusing induction into the CFL Hall of Fame was a selfless act that helped the league grow up even more.

It has been over 46 years now that Gilchrist was running over opponents. knocking them unconscious, while giving everything he had. There are fewer people around who actually saw him play, but one only needs to watch any game of football today to see the impact he had.

Roger Craig, Alan Ameche, Pat Harder, and Bill Osmanski deserve mention.





Halfback : Terrell Davis



5'11" 206
Halfback
Denver Broncos
1995 - 2001
Seven Seasons
78 Games Played
3 Pro Bowls
Super Bowl XXXII MVP
1998 NFL MVP
NFL 1990's All-Decade Team

Davis was the Broncos sixth round draft choice in 1995. He bailed out a franchise desperately seeking a franchise back, gaining 1,117 yards on the ground and grabbing a career best 49 passes.

The Broncos began to increase his workload each of the next three seasons, where Davis was named First Team All-Pro and to the Pro Bowl each year. He ran for an amazing 4,296 yards and 49 touchdowns over that time. Davis led the NFL is rushing touchdowns in two of those years.

Denver started to become an upper echelon team in the NFL this tine, thanks to Davis and Hall of Famers like John Elway and Gary Zimmerman leading the way. Davis was named NFL Offensive Player of the Year in 1996, an award he would win again after the 1998 season.

The team won two consecutive Super Bowls starting in 1997, when Davis led the league with 15 rushing touchdowns. As Denver got set to play the Green Bay Packers in Super Bowl XXXII, Davis was suffering from a severe migraine headache and listed as questionable.

Not only did he play, but he was listed as the MVP of the game, the first championship in Broncos franchise history, after running for 157 and three touchdowns. He was the first player to ever run for three scores in a Super Bowl and the Broncos were the first AFC team in 13 years to win the game.

Davis had his finest year in 1998, leading the NFL with a career best 2,008 yards and 21 scores on the ground. His 125.5 rushing yards per game and a healthy 5.1 yards per carry average also led the league and were career high marks as well. All are franchise records. Denver went on to win Super Bowl XXXIII and Davis ran for 102 yards and got 50 more off a pair of receptions.

Catastrophe stepped into his career in 1999 when injuries derailed his career. He had 493 rushing yards in nine games played over two years. Showing a tremendous amount of grit, Davis returned to run for 701 yards on basically one leg in 2001, the only year of his career he failed to score.

He decided to retire after 2001, holding the Broncos franchise records in rushing yards, touchdowns, and carries in a career and single season. He also gained 1,140 yards in the eight postseason games he appeared in, including an NFL record seven straight games with at least 100-yards gained. Davis gained 91 yards in his first postseason game.

Though he has been a semi-finalist for induction into Canton in each of the last four years, critics point out his obvious lack of longevity. Yet he also can be compared with Hall of Fame running back Gale Sayers in some ways.

Though Sayers was a much more versatile player who was as deadly on special teams as he was at running back, his career was also cut short because of injuries and has just one more Pro Bowl that Davis, yet Sayer's also ran for 2,651 fewer yards and scored 21 less times as a running back than Davis did.

It seems likely the man Denver fans called "TD" will one day get inducted into Canton, where he might yet again be able to perform his "Mile High Salute". Though it may take some time because Broncos legendary halfback Floyd Little was finally inducted into the Pro Football Hall of Fame in 2010.

John David Crow, Paul Lowe, Clem Daniels, Abner Haynes, Byron "Whizzer" White, and Beattie Feathers deserve mention.






Wide Receiver : Mac Speedie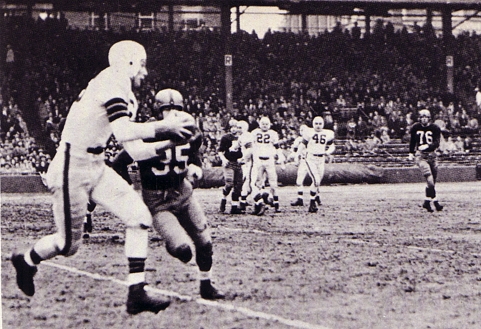 6'3" 203
Wide Receiver
Cleveland Browns
1946 - 1952
7 Seasons
86 Games Played
349 Catches
5,602 Yards
33 Touchdowns
5 Pro Bowls
NFL 1940's All-Decade Team

Speedie was drafted by the Detroit Lions in the 15th round of the 1942 draft. He was the 154th player picked overall. He had to serve in the Army because of World War II. While playing football on base, he was recruited by Hall of Fame Coach Paul Brown to play for his expansion Cleveland Browns in the fledgling All-American Football Conference.

Speedie joined the Browns in 1946 at 26 years old after the Browns offered him twice as much money as Detroit. The plan was to play him at defensive end, but the Browns quickly moved him to split end.

His impact was immediate. Though he started 10 of 14 games in his rookie year, Speedie scored a career high seven touchdowns on 24 receptions, while also averaging a career high 23.5 yards per catch.

He started nine of 14 games in 1947, but managed to snare a career high 67 balls. He scored six times, and gained a career high 1,146 yards. He scored one touchdown on a 99-yard jaunt, which is a record. Speedie was named First Team All Pro team that year, and would continue to be given that accolade until Cleveland joined the NFL.

Speedie snagged 58 passes for 816 yards in 1948, and followed that up the next year with 62 receptions for 1,028 yards. He also matched his career high of seven touchdowns. It would be the last season that he would start a game again in his career.

Cleveland won the AAFC Championship every year that Speedie was with the Browns and lost only 4 games total. The AAFC folded after 1949, and the Browns joined the NFL. They won the 1950 NFL Championship, as Speedie caught 42 passes.

He managed to catch 34 balls the next year before suffering a knee injury in week 10, causing him to miss the rest of the season. The Browns got back to the NFL Championship game, but lost.

In 1952, Speedie returned to catch 62 passes for 911 yards and five touchdowns. He suffered a knee injury in the season finale, which would be his last season in the NFL. Cleveland would go on to lose in the championship game. He was named to his final Pro Bowl that year and was also named the Browns team MVP.

Speedie's next move took Browns fans by surprise, when he bolted for the Canadian Football League. There are several theories surrounding this move. One is his personality clash with Hall Of Fame Coach Paul Brown. Brown was known as a strict disciplinarian, while Speedie was known as a free spirit.

Before the 1952 season had begun, Mac showed up at the Browns training camp with a skunk he had named "Paul". Another theory was that when Speedie asked for a raise, he was rebuffed, so he took the more lucrative CFL offer.

Also, there was a story that Speedie, now 33 years old, thought that he would be phased further out of the offense. Speedie joined the Saskatchewan Roughriders, and was All-CFL in 1953 and 1954. In 1955, Mac broke his leg and retired at the end of the year.

He didn't stay away from the game long. He was lured by an ex-Browns teammate, Lou Rymkus, to join him in coaching the expansion Houston Oilers in the newly formed American Football Conference in 1960. Houston would go on to win the first AFL Championship. Rymkus was fired shortly into the 1961 season, so Speedie resigned as well.

The Denver Broncos then hired Speedie as their Receivers Coach in 1963. He was promoted to Head Coach four weeks into the 1965 season. Mac held the position until he resigned two games into the 1966 season, accepting a position with the team as a scout until 1981. His coaching record was 6-19-1.

It is evident on the influence Paul Brown has used to hold many hostage, including the respect due for Speedie. It took the Browns until 1999 to put him on their Honor Roll. This move was made by then Browns owner Al Lerner. Problem was, Speedie had died in 1993. Still, kudos to the late Mr. Lerner for doing something Art Modell had not done. Some say Modell had promised Paul Brown to not honor Speedie.

The lasting disdain Brown had for Speedie was on display in 1977. Browns and Speedie met for the first time in 25 years at a college All-Star game. When Speedie tried to approach Brown, he was given the cold shoulder and was referred to as, "the one who went to Canada."

Whatever Paul Brown's problem was, it should not have effected the voters from seeing the reality. Speedie helped the Browns reach the championship game in each season he played, as the Browns won five.

He was a First Team All-Pro or Pro Bowler every season that he played in the AAFC, NFL, and CFL except three seasons in 10 years. He averaged over 16 yards a reception for his career, which is very impressive in any era. Remember, this is the PRO FOOTBALL Hall Of Fame I am talking about.

The AAFC and CFL both fall under this category. Speedie has made it into the final selection process several times, but has fallen short so far. He spent the last years of his life lamenting how Paul Brown had been preventing his induction.

I wouldn't be surprised if Brown's son, Mike, is carrying on this spite filled campaign as owner of the Cincinnati Bengals. Speedie has been a finalist twice and seniors candidate once for induction into Canton.

If the voters would just let this vindictive hatred lay with Paul Brown in his grave, where it belongs, they would then allow the facts of Speedie's gridiron career take its rightful forefront in this debate. One also must remember that Speedie lost four years of his career due to WWII. It is sad that Mac has passed on, and cannot be part of this long overdue induction. There is NO question that Mac Speedie belongs in Canton.





Wide Receiver : Harold Carmichael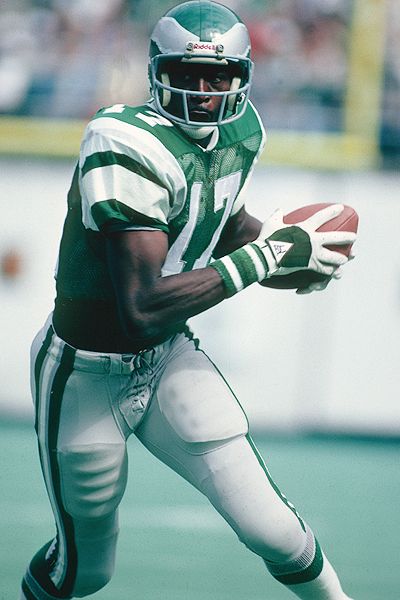 6'8" 225
Wide Receiver
Philadelphia Eagles
1971 - 1984
14 Seasons
182 Games Played
590 Receptions
8,985 Receiving Yards
79 Touchdowns
4 Pro Bowls
1980 NFL Man Of The Year
NFL 1970's All-Decade Team


Carmichael was a seventh round draft choice of the Philadelphia Eagles in the 1971 NFL Draft. He was the 161st player chosen overall.

The Eagles decided to move Carmichael to tight end for his rookie campaign, starting in six of the nine games he played. He led all Eagles tight ends with 20 receptions, which was the fourth most on the team that year.

He was then permanently moved to wide receiver the following season, and he started in five of the 13 games he appeared in. He caught another 20 passes, and scored the first two touchdowns of his career.

The 1973 season saw Carmichael establish himself as one of the top receivers in the league. He led the NFL with 67 receptions for 1,116 yards. His 79.9 receiving yards per game also led the league, which are all career best marks. While scoring nine times, he also ran the ball a career high three times for 42 yards and was named to his first Pro Bowl team.

The Eagles struggled to find a steady quarterback over the next three seasons, and Carmichael suffered somewhat because of this. He caught 147 balls over that time, along with 20 touchdowns, but his yard per catch average never exceeded 13 yards over that time.

Ron Jaworski was named the starting quarterback for the 1977 season, and provided much needed stability for the team. Carmichael averaged 14.5 yards on 42 receptions, along with seven scores, while helping break in the young signal caller.

He averaged a career best 19.5 yards on 55 receptions the next season, gaining 1,072 yards and scoring eight times. He was named to his second Pro Bowl as well, an honor he would attain in each of the two following seasons.

Carmichael caught 100 passes over that time, averaging 17 yards a reception, and scored 20 times. His 11 touchdowns in the 1978 season was a career high.

The 1980 season was special to many Eagles and their fans. The team would win the NFC crown, and appear in Super Bowl XV. Carmichael was a key member of that team. Though Philadelphia lost to the Oakland Raiders in that game, he led led the team with six receptions for 91 yards.

He followed that year up by gaining 1,028 yards on 61 receptions, along with six scores, in the 1981 season. He also caught a pass for a career long 85 yards.

The NFL went on strike in the 1982 season, and this event cut into Carmichael's production. He was on his way to having another stellar year, catching 35 balls and scoring four times.

Now at 34 years old in 1983, Carmichael was nearing the end of his career. He snagged 38 passes, and scored the last three touchdowns of his career. He also tossed a 45 yard touchdown pass, the only one of his career.

The Eagles then released him after the season completed.

He joined the Dallas Cowboys the next year, and caught one pass for seven yards in the two games he suited up for. Carmichael then decided to retire from the game.

Harold Carmichael's name is all over the Philadelphia Eagles record books. His 180 games played with the club is the most ever. He is still on top of the teams list for most receptions, reception yards, and receiving touchdowns for a career. He is still ranked 12th in receiving yards for a season, and 18th for receptions in a season.

Carmichael once held an NFL record by catching a pass in 127 straight games, and ranked sixth all time in league history in career receptions at the time of his retirement.

His 590 receptions still rank as the 53rd most in league history, his 8,985 receiving yards is the 42nd most, and his 79 total touchdowns is the 48th most ever.

Harold is also well known for his off the field accomplishments in community work. He was named the 1980 NFL Man of the Year, the Jacksonville Pro Athlete of the Year, and the New Jersey General Assembly Man of the Year.

Carmichael is a member of the NFL 1970s All-Decade Team, and is a member of the Philadelphia Eagles Honor Roll.

I have wondered, through the years, why Carmichael has not been inducted into Canton yet. Looking at his statistics, one might consider him a fringe prospect. If you look beyond that, you can easily see he is worthy.

Carmichael was the target on every down the Eagles dropped back to pass. Not only because of his enormous size, but because of his sure and steady hands. His long strides often got him far into enemy territory, as one can see by his 15 yards per catch average over his career.

He was much more than a very dangerous red zone threat. He was tough, and an excellent blocker. His battles with Pat Fischer, of the Washington Redskins, are legendary. Those two men would spend several Sunday's putting welts on each others bodies.

Carmichael had to achieve his successes in an era where the ten-yard chuck rule was in play, making it much more difficult to get open. Cornerbacks then were much more adept at man to man coverage than they are in these times. A receiver not only had to get open then, but he had to literally fight his way to the spot on the field where a ball was to be thrown.

Harold Carmichael has joined a long list of many of his contemporaries. This list is of forgotten players on a forgotten era by a society today that has little to no idea of the path paved to present time. Many of the Hall Of Fame voters never saw Carmichael play, nor the era he played in.

You will see inferior players inducted before Carmichael most likely. Men who benefited from the five-yard chuck rule, the offensive lineman's ability to hold, as well as the defenders inability to hit anyone like they used to.

It is more than a shame. It is a disgrace. Harold Carmichael certainly belongs in the Pro Football Hall of Fame, but time and opportunity for his respect trudge onward into obscurity.

Tim Brown, Cris Carter, Del Shofner, Gary Collins, Boyd Dowler, Charley Hennigan, Art Powell, Bobby Walston, Jim Benton, Ken Kavanaugh, Jack Ferrante, Gaynell Tinsley, Lavern Dilweg, and Drew Pearson deserve mention.





Tight End : Ben Coates



6'5" 245
Tight End
New England Patriots
1991-2000
10 Seasons
158 Games Played
499 Receptions
5 Pro Bowls
NFL 1990's All-Decade Team

Coates was drafted by the Patriots in the fifth round of the 1991 draft, the 121st player chosen overall. He was brought along slowly in his first two seasons. catching 30 total passes and four touchdowns.

Business began to pick up for Coates in 1993, when Bill Parcells was named head coach of the Patriots. Parcells had a rookie quarterback in Drew Bledsoe, and is known for his wanting to get the tight end heavily involved in the offensive scheme. Coates grabbed 53 balls and scored eight times that season.

He led the Patriots to Super Bowl XXXI in 1995, after setting an NFL record of 96 receptions by a tight end. This record stood until 2004. He also gained 1,174 yards and scored eight times. Though the Patriots lost in the Super Bowl, Coates scored a touchdown on six receptions.

He was named to the First Team All-NFL, and went to his first Pro Bowl that year. Coates followed that up with 84 catches in 1996, scoring six times. He again was named to the First Team All-NFL, and went to the Pro Bowl.

Coates had a career best nine touchdowns the next season, on 62 receptions, and took one pass a career long 84 yards. He was named to the Pro Bowl again. He went back to the Pro Bowl in 1998, catching 66 passes and scoring eight times.

His last Pro Bowl year was in 1999, when he caught 67 balls and scored six times.
Coates last year with the Patriots was in 2000. He caught 32 balls, and scored the last two touchdowns of his career.

The Patriots cut him, so he signed with the Baltimore Ravens. Coates was used as a backup that year, catching nine passes, as the Ravens would go on to win Super Bowl XXXV. He then retired.

His 490 receptions with New England is the most by any tight end in Patriots history, as is his 5,471 yards and 50 touchdowns. Coates is a member of the Patriots Hall of Fame, the Patriots All-Time 1990's Team, and the NFL 1990's All-Decade Team.

He caught 460 balls in seven years, which is an astonishing rate for any player. It is an even more remarkable total if you realize he never caught more than 96 balls once. Yet Coates was also a good enough blocker to be able to stay on the field at all times.

Detractors will point at his lack of service time as the reason for exclusion so far. He has yet to even be a semi-finalist in the voting process. But his massive production over a short time certainly warrants serious consideration for induction.

Fred Arbanus and Dave Kocourek deserve mention.





Offensive Tackle : Jim Tyrer



6'6" 280
Offensive Tackle
Kansas City Chiefs
1961-1974
14 Seasons
194 Games Played
9 Pro Bowls
6 First-Team All-Pro
AFL All-Time Team


Tyrer was drafted in the third round of the 1961 American Football League draft by the Dallas Texans, the first draft the league ever held. He was the 22nd player chosen overall. He was also drafted in the 14th round of the NFL draft by the Chicago Bears.

Tyrer was named the starting left tackle immediately by the Texans, now in their second year of existence under the leadership of future Hall of Fame head coach Hank Stram. The Texans would go on to win the AFL Championship in 1962, as Tyrer was named to his first of nine straight Pro Bowl honors.

Hall of Fame owner Lamar Hunt, a founder of the AFL, was unhappy with attendance despite winning the title. Though he wanted to keep the team in Dallas, he decided to move the Kansas City and rename them the Chiefs because he was tired of sharing the same stadium, the Cotton Bowl, with the Dallas Cowboys of the NFL and suffering from low attendance figures.


Tyrer was unaffected by the transition, as he received the first of six straight First-Team All-Pro nods in 1965, establishing him as the top left tackle in all of professional football.

The Chiefs would win the 1966 AFL title, but it was also the first season the AFL and NFL decided to hold a championship game between the two leagues. Kansas City faced the Green Bay Packers of the NFL but lost the game 35-10.

In 1967, Hunt was watching his children play with a toy called a Super Ball. He then had the idea of calling the AFL and NFL title game the Super Bowl. The Chiefs would reach this game in 1969, the last one player between AFL and NFL teams before the two leagues merged. It was also the season where Tyrer was named the AFL Offensive Lineman of the Year. Kansas City would win Super Bowl IV, dismantling the Minnesota Vikings 23-7. It has, so far, been the last Super Bowl in which the Chiefs have appeared.

Tyrer missed two games in 1973 for the first time in his career. His string of 180 straight games played is the third-longest streak in club history, and he started in each one of them.. Kansas City thought the 34-year old was nearing the end of his career because he had finished his second season where he failed to make the Pro Bowl. They traded him to the Washington Redskins.

He played in every game for the Redskins in 1974, though he mainly served as a back up to Ray Schoenke. He did, however, start in one game. Washington won their division, but were bounced from the playoffs in the first round by the Los Angeles Rams. Tyrer decided to retire at the end of the year.

Despite being the best left tackle in AFL history, he has yet to be inducted into the Pro Football Hall of Fame. Though he was a finalist once in 1981, no player in the history of professional football has more accolades than Tyrer and has failed to be inducted.

One reason may be because of the reason he died in 1980. Suffering from depression, Tyrer committed suicide after killing his wife. Though depression was not much of a subject to speak about in that era, it is as though the Hall of Fame voters have kept him out of Canton due to perhaps their lack of knowledge of this subject.

In recent years, professional football has almost begrudgingly acknowledged depression and the fact that it can occur after severe head trauma over a long period of time. "Post Concussion Syndrome" is the commonly used term and these effects have been brought to light by gridiron legends who have suffered from it following their football careers.

Hall of Famers like John Mackey and Mike Webster are two who have suffered from this type of trauma. A game thought to be so violent that NFL Commissioner Roger Goodell was recently seen on television contemplating banning the three-point stance from the game in an attempt to reduce head injuries.

Tyrer played in an era where offensive linemen were instructed to use their heads as weapons. They were told to bury their heads into the chests of defenders first. This was also an era where offensive linemen were not allowed to use their hands like they do in the current game. They had to put their arms in the shape of a chicken wing, as they relied on quick feet and strong shoulders to take control of their opponents.

Opposing defensive ends were allowed to use their fists back then, and the head slap move was perhaps the most used method to beat blockers. While unable to defend themselves, offensive linemen lead with their heads as they had been taught. Defenders would attempt to counteract this by dodging blockers, then slapping them upside their heads to get the blocker off balance. In doing so, they were given a clearer path to those who possessed the football.

Though Tyer regularly faced the opposing teams' best pass rushers, he was unflappable and consistent. Men like Hall of Famer Elvin Bethea, Rich "Tombstone" Jackson, Larry Eisenhauer, and Ben Davidson were just a few of the stellar defensive ends he faced each week for several seasons.

Davidson is the man who Tyrer admitted was the toughest opponent he faced. The respect was mutual. Davidson called Tyrer a "mountain of a man," though Davidson stood 6'8" and weighed 275 lbs himself.

"He was easily the best blocker I ever faced," Davidson recalls. "He had power and finesse. He could have made an excellent guard, too. We were friends off the field, as Tyrer was all about good sportsmanship. We used to go to the AFL All-Star games together on a bus. We would joke if either he or my teammate, Hall of Famer Jim Otto, had the biggest head in football. I often would say at banquets that Tyrer basically wore a big red trash can as a helmet when he played."

Davidson believes that Tyrer has long deserved his induction into Canton, as does Bethea. Bethea was inducted himself in 2003. "Tyrer was the pioneer of big offensive tackles. He was the best blocker I ever faced. I used to try to run as fast as I could upfield to get around him, but it rarely worked. It pissed me off that I couldn't defeat him, as I could with other left tackles regularly."

Bethea also admits he feared facing Tyrer. "He was THE preeminent left tackle in all of football. All other blockers I faced in the NFL were mediocre compared to him. He would just swamp me each game to where I would be lucky to beat him even once in a game," he said.

Paul Zimmerman, a Hall of Fame voter and writer for Sports Illustrated, has long said Rich "Tombstone" Jackson was the greatest pass rusher in pro football history and has long lobbied for Jackson's induction into Canton. Jackson, though he would like to be inducted, himself, also has a tremendous amount of respect for Tyrer.

"It is a travesty that Jim Tyrer has yet to be inducted into Canton," he said. "He was one of the first big offensive linemen with quick feet to play pro football. Besides having good feet, he was crafty and smart. You had to be prepared facing him, as the Chiefs won-loss record was proof of how excellent their players were. Tyrer was the top offensive lineman I ever faced, and that included the AFL and NFL."

Larry Eisenhauer, whose four Pro Bowls are tied with Bob Dee and Richard Seymour as the most in Patriots franchise history, also echoes Davidson, Bethea, and Jackson in thinking that Tyrer should have been inducted into the Pro Football Hall of Fame long ago.

"He was the best I ever faced," Eisenhauer recalls. "He was equally excellent run blocking and pass blocking. He was a very strong man, and I never looked forward to facing him. I really cannot believe he has not been inducted into Canton yet. He was the best left tackle in AFL history."

Tom Keating was a two-time Pro Bowl defensive tackle who played on two AFL Championship teams. "Jim Tyrer was one of the most dominant tackles in all football," he said. "When I was with the Raiders, Ben and I rarely ran stunts against Ed Budde and Tyrer. If I went first in the stunt, Jim would close down and I was faced with 6'6" and closer to 300 lbs. I was 6'2" and weighed 247 lbs. If Ben went first (took an inside rush), I had to loop way outside and by the time I got outside, Lenny Dawson was throwing the ball. Ben and I had much better luck one-on-one with Ed and Jim."

"Jim was a excellent drive blocker and was good at hooking the defensive players," said Keating. "He deserves induction into Canton.

If Tyrer has the respect of his peers, many who are amongst the finest to ever play, then it adds to further confusion as to why he has yet been given his long awaited induction.

One theory is a lingering disrespect to the American Football League itself. NFL players were told back then that the AFL was an inferior brand of football, full of players who lacked the skills to play in the NFL.

Homer Jones, a Pro Bowl wide receiver of the New York Giants, is known as the man who invented spiking the football after a touchdown and holds the record for most yards per catch for a career. "We were told the AFL was a Mickey Mouse organization yearly to keep us from wanting to play there, even for more money. When we finally faced those guys, we realized that they were as good as us. Maybe even better in some areas," he said.

Jackson recalls his Denver Broncos played the first preseason contests between the two leagues. "We played against both the Detroit Lions and Minnesota Vikings," he said. "We weren't always the best team in the AFL, never winning more than seven games in a season in the entire time we spent in the AFL. We were told we had no chance against the NFL, but we won both games."

The AFL has just 30 players in the Pro Football Hall of Fame who once played in their league. Several joined the league just before the merger, having played the majority of their careers under the NFL umbrella. Only one, Billy Shaw, was inducted despite having played his entire career in only the AFL. At his ceremony, he was forced to wear a jacket that had the NFL logo emblazoned on it.

"There may be a lingering AFL disrespect when it comes to voters," said Ed Budde, an offensive guard also on the AFL's All-Time First Team and teammate of Tyrer for eleven years. He played alongside Tyrer and went to seven Pro Bowls himself. "Jim played at a top level with great skill for a long time. His body of work is proof of his excellence, and he should be inducted into Canton," he said. Many football fans and his peers believe Budde should also be inducted, but he has somehow not yet been given this honor.

For some reason, Canton has become the NFL Hall of Fame, instead of the Pro Football Hall of Fame. Though several players spent time in other leagues, the Hall of Fame seems to make sure these contributors' biographies concentrate mostly on their NFL exploits. The Cleveland Browns, who dominated the All-American Football Conference, never get their true respect as a dynasty because they came from another league initially.

There is a long list of AFL players awaiting induction into Canton to this day, as inferior modern players go in ahead of them. One theory for this is that the NFL still is upset at being forced to merge with the AFL, because the upstart league was taking viewers and money away from them. Voters living in the wallets of the NFL have chosen to ignore gridiron excellence for fear of losing their positions. Positions they no longer sit in with the pure intentions they once held.

Though many feel the way Tyrer's life ended was the reason for his exclusion from the Hall of Fame thus far, it also points out another hypocrisy of Canton. When Michael Irvin was inducted in 2007, it was met by a huge backlash from NFL fans who couldn't understand his induction ahead of Art Monk and others, because of his notorious lifestyle as opposed to the squeaky clean lifestyle of others.

The official reason given for Irvin's induction is that garnering the honor is based on a player's body of work on the field, not off of it. If this truly is the case, then it shows the flaw in logic for omitting Tyrer thus far.

"It is time to wipe the slate clean and induct him," says Davidson. "Life goes on. These types of events happen daily. We are turning him into a Pete Rose by excluding him, though everyone knows he should be in."

Depression was an issue people in Tyrer's era dealt with internally -- it was not as acceptable to seek help for it as it is today. He battled it as his business ventures failed and he struggled to keep his four children enrolled in private schools.

"We didn't make a lot of money," Davidson remembers, "so we worked extra jobs to make ends meet. I worked with several teammates as valets at a race track. We would park the customers' cars, then sprint back as a way to keep in shape. I remember one time I was riding a bus to an AFL All-Star game with Jim. I was telling him of my post-career plans of being a landlord. He proceeded to tell me of all of these plans he had. He kind of made me feel inadequate, my owning apartment buildings. I also thought perhaps he was too spread out in his interests and might be too aggressive."

As his financial situation suffered, his depression worsened to the point it led to his death.
Though none of his family members saw it coming, most acknowledged that he was depressed at the time.

"I felt my dad's mental state at the end of his life must have been impaired and that very well could have been as a result of the trauma his brain experienced during his football career", says Brad Tyrer, the oldest son of Jim and Martha.

One thing all of his children have done is forgive him for that fateful day. They still love their father and hope to see Canton finally give him his long overdue earned respect. "Dad belongs there, but I am unsure if the voters will ever put him in," says Brad.

Pete Duranko was a defensive end for seven seasons with the Denver Broncos. Not only was he a friend, having had dinner with Tyrer and their wives, but he faced him several times on the field. "He was the best offensive tackle ever, and one of the best to ever have played football," Duranko says enthusiastically. "He didn't get his full recognition because he was on those excellent Chiefs teams, but he was load to deal with."

Duranko has spent his post-football career working with players who suffer from depression and also deals with his own health issues and depression. "It creeps up on you. People, especially the voters, do not understand mental illness. Jim was a strong man who did his best to hide his disease. He didn't want people to know he was depressed and preferred to try to deal with it himself. When we were in the game, if you didn't play, you'd go highway. Meaning you got released. This made you play through all sorts of injuries, especially concussions."

Duranko is yet another of a long line of players who feel Tyrer deserves induction into the Pro Football Hall of Fame. A list that includes Hall of Famer Willie Lanier and Fred Urban's. Arbanas, a six-time Pro Bowler and member of the AFL All-Time Team and Chiefs Hall of Fame, was Tyrer's roommate for ten years and perhaps his best friend on the team.

While many of those close to Jim Tyrer feel head injuries suffered while playing football contributed to his depression, there are some who are unsure. Al Lundstrom is Tyrer's brother-in-law and played football with him at Ohio State University. "Jim was smart, hard to move, was fast on his feet, and was also very big. Many players were unable to use the head slap on him because of his height. Though he was depressed about his financial situation, I am not convinced his depression was brought on by post-concussion syndrome," he said.

Even if he did not suffer from a head injury after his career, his accolades speak loudly for a long overdue respect that should be attained now. The voters really have no excuse nor reason not to bestow it. If it is AFL disrespect, the building clearly has a sign that says PRO FOOTBALL Hall of Fame, NOT the NFL Hall of Fame. The American Football League certainly played pro football, as their two Super Bowl wins in four meetings with the NFL prove.

No player in the history of professional football, who is able to be voted into Canton, has attained more accolades than Jim Tyrer and has failed to be inducted by the voters yet. He was named All-AFL in each of the eight seasons he played in the league

Canton is full of players with much less accomplishment and respect. Many defensive ends who faced him state he was the best offensive tackle ever in AFL history. Even better than Hall of Famer Ron Mix or eight-time Pro Bowler Winston Hill, who also awaits his induction.

If the excuse of the voters is that they have not forgiven him for how his life ended over 30 years ago, they fail to realize it has been three decades and it is time to forgive. Especially having hurriedly inducted a questionable character like Michael Irvin.

If an induction into Canton truly is about what a player does on the gridiron alone, their exclusion of Tyrer becomes more ludicrous and has to bring into question what reasons the voters have used to prevent his induction.

Tyrer, himself, once described what playing offensive tackle was like. "You have to have a certain personality to be an offensive lineman. You have to be orderly, disciplined. You have to take the shots like a hockey goalie. It's a passive violence. You build up anxiety. But when you finally get a clear shot at a guy, you say, 'Take this for all of those.' "

Not only did his opponents "Take it for all of those," but he gave it better than anyone who ever played his position in the entire history of the American Football League. He had no peer at his position. Quite simply, he was the best to ever suit up at offensive tackle for the Chiefs or the AFL. Jim Tyrer is a member of the Chiefs Ring of Honor and Hall of Fame.

As time passes, not only do we tend to forget the life of Jim Tyrer and how it ended, but we also tend to forget all of his excellence attained in the game of football. The voters of Canton can be held guilty of this, especially the Seniors Committee. A committee whose sole job is not to forget greats.

All you have to do is look at the career of Jim Tyrer to see how great he was, because it is in plain black and white print. There are few who ever played his position in the history of pro football to succeed on his level.

Of the 11 men who were voted into Canton so far as offensive tackles, nine have fewer accolades than Tyrer. Only Lou "The Toe" Groza has appeared in as many Pro Bowls, though he was named to two less First-Team All-Pro Teams. Anthony Munoz is the only offensive tackle in Canton who has more combined Pro Bowls and First-Team All-Pro honors than Tyrer.

"A travesty," as Rich Jackson states, might be too light a word for Tyrer's exclusion from Canton. Utterly disgusting, distasteful, and disrespectful may be also apt. If his own family can forgive him and move on, it is time the voters do so as well. There may be no player right now in the entire history of professional football more deserving of induction into their Hall of Fame than Jim Tyrer.






Offensive Tackle : Al Wistert



6'1" 214
Tackle
Philadelphia Eagles
1943 - 1951
9 Seasons
95 Games Played
8 Time All Pro
NFL 1940's All-Decade Team


Wistert was drafted in the fifth round by the Philadelphia / Pittsburgh Steagles in 1943, the 32nd player chosen overall. The Steagles were a team that was comprised of Philadelphia Eagles and Pittsburgh Steelers into one team because of World War II.

Wistert is a member of the Michigan University Hall Of Honor, and a member of the College Football Hall Of Fame, as are two of his brothers.

He went to his first Steagles practice knowing no one. He saw Hall Of Fame defensive end Bill Hewitt sitting on some rocks smoking a cigarette. Then he approached Hewitt to introduce himself to the fellow Wolverine Alumni who had played alongside his brother Francis in college.

Hewitt had just come out of a three-year retirement to play for $4,000. It was the most Hewitt had ever made in the NFL. Wistert had just signed with the Steagles for $4,500. As he extended his hand and introduced himself, Hewitt did not say a word or offer his hand. Wistert then decided to run laps around the field by himself. Pretty soon, the entire Steagles team was following him and running around the field.

The Steagles disbanded the following season, and the Steelers and Eagles went back to being separate teams. Wistert stayed in Philadelphia . Al would get his initial First Team All-Pro nod that year in 1944, and would garner this achievement for every year until 1947. He also was named a Pro Bowler every year of his NFL career from his second season on. In 1946, he was named team captain, an honor he served until 1950.

The Eagles went to their first championship game in 1947, but lost to the Chicago Cardinals 28 - 21. The 1948 season saw the Eagles win their very first championship during a blizzard in a rematch against the Chicago Cardinals 7 - 0. The Eagles then went back to the NFL Championship the next year and beat the Los Angeles Rams 14 - 0 in heavy rain.

The Eagles are the only team in NFL history to win back to back championships and not allow their opponents to score. The Pro Bowl was not played between 1942 and 1950. After becoming the Eagles first Pro Bowl player in 1950, he announced he would retire after the 1951 season.

The Eagles held an AL WISTERT DAY in the fourth from last home game that year. The team gave him a brand new car, and many other gifts. One gift was a hand crafted dining room table that he still uses this day to eat his meals off of.

The Eagles then retired his #70 jersey in 1952, the first Eagle to ever have had this done. Wistert is a member of the NFL 1940's All-Decade Team.

I find it utterly amazing that Wistert has yet to be inducted into the Pro Football Hall Of Fame! This man truly embodies what Canton is supposed to represent. Not only was he an eight-time All-Pro in his nine-year career, but he was a very important member of an Eagles team that dominated the NFL in the late 1940's.

He introduced the NFL to the stand up style of blocking you all see today, instead of the rolling type of blocks that were employed then, which allowed Wistert to use his speed and agility to keep on blocking more defenders downfield and making him better than all the rest.

Wistert was a true leader on and off the field. He captained a powerhouse squad full of Hall Of Fame players like Steve Van Buren, Pete Pihos, Alex Wojciechowicz, and Chuck Bednarik. His coach was Hall Of Famer Earle "Greasy" Neale. Wistert also gave back to the community by coaching a high school team in New Jersey over 50 miles away, even though he did not own a car.

Neale liked and respected Wistert so much that he would lend his personal car daily to Wistert so he could go teach kids how to play football. This says a lot, because Neale was a noted task master.

One game, Wistert came to the sideline to tell the coach he thought he had just broken his leg. Neale replied, " Well, get back in there until you are sure that it is." Al never missed a game in his career. He started every game of his career except the first five of his rookie season. He was a 60-minute player who never left the field.

He would soon supplant veteran Ted Doyle after the fifth game. The only other time he missed a start was in 1950 season opener against the Cleveland Browns. Wistert had a severely sprained ankle and could hardly walk, but he ended up playing most of the game anyways.

Though he was the smallest tackle in the NFL, weighing 214 pounds, Wistert was a master technician who would out think, outwit, out gut, and dominate his opponents on both sides of the ball for every minute of every game.

Wistert said, "I never gave then the same thing twice. I always confounded them with a new plan of attack." His team mates dubbed him "Ox", because he was incredibly strong and dependable.

The game was much different then. A rougher and more violent game with less rules and padding for self preservation. They played games in all sorts of poor weather, unlike the climate controlled stadiums so many players enjoy today. They would spend days traveling to cities by train, instead of a few hours on an airplane like today.

Just to get a taste of these times, the Eagles took a train from Philadelphia to Los Angeles after beating the Giants. Despite only having a few days in L.A. , they shut out the Rams in monsoon like conditions to win an NFL Championship.

To say these men were tough is an understatement. They did this for the love of the game, not the love for the money.

The fact the Eagles retired his number first, and only one year after his retirement, shows how special a football player he was. Wistert is also a member of the Philadelphia Sports Hall Of Fame.

As the years go on, the more we tend to forget great gridiron stars like Wistert. The veterans committee for the Pro Football Hall Of Fame MUST be blamed for not doing the jobs they were given to do. It is plainly evident to see, with all of the accolades, that a grave injustice has been perpetrated in regards to Wistert.

It was not lost on his fellow players. After he retired, over 23 players, coaches, and owners have written to the Hall Of Fame asking that Wistert be put in. Greats ranging from Chuck Bednarik to even former Eagles owner Norm Braman. Why the voters have chosen to ignore such a rich, diverse cast of NFL Alumni requests is bewildering. There is NO QUESTION that Albert Wistert belongs in Canton .

YOU can help by signing this petition:

http://www.ipetitions.com/petition/AlOxWistertHOF/

Richmond Webb, Tony Boselli, William Roaf, Joe Jacoby, Jimbo Covert, Ralph Neely, Stew Barber, Winston Hill, Vic Sears, Baby Ray, Al Blozis, Bucko Kilroy, Frank Cope, Bill Lee, and George Christensen deserve mention.





Guard : Ed Budde



6'5" 265
Guard
Kansas City Chiefs
1963 - 1976
14 Seasons
177 Games Played
7 Pro Bowls
AFL All-Time Team


Budde was the first round draft pick of the American Football League's Dallas Texans in 1963. He was the ninth player picked overall. Budde was also a first round draft pick of the Philadelphia Eagles in the NFL.

The Texans became the Kansas City Chiefs before the 1963 season began. Budde's impact was immediate. He was named to the AFL All-Star team in his rookie year. Budde went on to have the second longest tenure in Chiefs franchise history, behind Chiefs Hall of Fame punter Jerrel Wilson.

Budde was fast and explosive. He would pancake most of his opponents with regular proficiency. He had the quickness to get to the next level to clear even a wider path for his team mates. He was also technically sound and rarely let his opponent sack the Chiefs quarterback.

Budde went to seven Pro Bowls in his first nine seasons and was named First Team All-Pro twice. He was hurt in 1975 and only played one game. After returning the next year to play 11 games, Budde retired after the 1976 season. He is a member of the Chiefs Hall of Fame.

He played in six AFL All-Star games. He was named to the Sporting News AFL All-League team in 1969. Budde was the first offensive lineman to be selected by the Associated Press as an Offensive Player of the Week. Budde is considered to be one of the greatest guards to have ever have played in the AFL by many.

He helped lead the Chiefs to two American Football League Championships wins and a victory in Super Bowl IV. Budde was named to the AFL's All-Time team by the Pro Football Hall of Fame. His son, Brad Budde, also played guard with the Chiefs for six seasons.

Ed Budde may be the greatest offensive lineman to have ever played for the Chiefs. That is quite a statement when you recall the long list of NFL greats who have been Chiefs. He was very athletic and strong. He did not miss a game his first nine seasons, and missed just three games in his first 12 years.

He was the anchor of a great Chiefs offensive line that featured such greats as perennial Pro Bowl center Jack Rudnay, perennial All-Pro tackle Jim Tyrer, tackle Dave Hill, and perennial All Pro TE Fred Arbanas. All are members of the Kansas City Chiefs Hall of Fame. Tyrer and Arbanas are also members of the AFL All-Time Team team with Budde.

Perhaps, due to all of the great Chiefs players during his era, Canton has overlooked Budde's place in history? If you look at all of his accomplishments on the gridiron, it should be a fairly easy decision to induct Ed Budde into the Pro Football Hall of Fame.






Guard : Walt Sweeney



6'4" 256
Guard
San Diego Chargers
1963 - 1975
13 Seasons
181 Games Played
9 Pro Bowls
AFL All-Time Team

Sweeney was a first-round draft pick of the San Diego Chargers in the 1963 American Football League draft. He was the second player picked overall. The Cleveland Browns also drafted him in the eighth round, the 107th player picked overall, in the NFL.

He did see action in his rookie year, mostly as a reserve. He got his hands on one kickoff and returned it 18 yards. The Chargers would end up winning the 1963 AFL Championship.

Sweeney was fully entrenched as the starting right guard in 1964, and finish that season being named to his first AFL All-Star Team. Sweeney would earn this distinction every year until the AFL merged with the NFL after the 1969 season.

Sweeney would then earn a Pro Bowl berth the next two seasons up to the conclusion of the 1971 season. His blocking opened up holes for such Chargers legends like Keith Lincoln, Jacque MacKinnon, Paul Lowe, and Dickie Post.

He also protected great Quarterbacks like John Hadl, and Hall of Famers Johnny Unitas and Dan Fouts. He mostly played guard, but versatile and smart enough to play anywhere along the offensive line when injuries would knock out the other starters.

After the 1973 season, he was traded to the Washington Redskins. He started the next two seasons for the Redskins before retiring after the 1975 season. Sweeney is a member of the San Diego Chargers Hall of Fame and was named one of the 50 Greatest Chargers ever.

Sweeney is one of the finest lineman to have ever played professional football. He is a member of the AFL's All-Time Team. He has been an immense success from college to the pros. He was part of an exciting Chargers offense that was one of the best units to ever have played the game.

He was a sound technician who was very athletic. He was equally adept at pass blocking or pulling in front of some of the best rushers to have ever suited up in pads. His exclusion from Canton can only be attributed to his AFL ties.

He went to the name number of Pro Bowls as his teammate, Hall of Fame Tackle Ron Mix, but still waits to be called. Hall of Fame Center Jim Ringo is the only Syracuse alumni to have played in more Pro Bowls than Sweeney. He is tied with Hall of Fame Running Back Jim Brown as having the second most.

I find it amazing to see that this man has not had his long overdue induction into the Pro Football Hall Of Fame yet. This is obviously another case of being snubbed because of the NFL's hatred and envy of the AFL, though some theorize Sweeney upset a lot of football brass by once having sued the NFL over their failure to supervise coaches giving drugs to players.

As time marches on, many of the newer voters will be those with little knowledge of the AFL. Sweeney's case may get more faint as these events transpire. I suggest all real football fans to wake up the Canton voters in their represented areas. Walt Sweeney most certainly deserves induction.

Steve Wisniewki, Bill Fralic, Jerry Kramer, Howard Mudd, Bob Talamini, Dick Stanfel, Buster Ramsey, Len Younce, Bill Edwards, Dick Barwegan, Bruno Banducci, Buckets Goldenberg, Ox Emerson, Russ Letlow, and Hunk Anderson deserve mention.





Center : Dermontti Dawson



6'2 288
Center
Pittsburgh Steelers
1988 - 2000
13 Seasons
184 Games Played
7 Pro Bowls
NFL 1990's All-Decade Team

Dawson was drafted in the second round of the 1988 draft by the Steelers. He did start five games as a rookie, but at guard while learning from Hall of Famer Mike Webster. Webster became a free agent after that year, so Dawson was handed the starting job.

The next 10 seasons saw Dawson start and play in every game for Pittsburgh. He made his first Pro Bowl in 1992, an honor he would continue to attain until 1998. He was named First Team All-Pro in 1993, something he did yearly up until 1998 as well.

Not only was he considered the best center in the game during this time, his peers considered him one of the nicest players in the league. He was nicknamed "Ned Flanders", the same name of an ultra friendly character on the iconic television show "The Simpsons".

Dawson injured his hamstring in 1999, which limited him to seven games. This issue plagued him in 2000, forcing him to miss seven more games. Pittsburgh then released him, which forced Dawson to eventually retire.

With seven Pro Bowls and six First Team All-Pro nods, it seems likely that he will one day be inducted into the Pro Football Hall of Fame. Dawson has been a finalist twice and a semi-finalist three times since 2006.

Though Webster is widely considered the greatest center in NFL history, Dawson has joined him as a member of the Steelers All-Time Team and should soon join his mentor in Canton.

Mark Stepnoski, Joe Morris, Charley Brock, and George Svendson deserve mention.





Kicker : Jim Bakken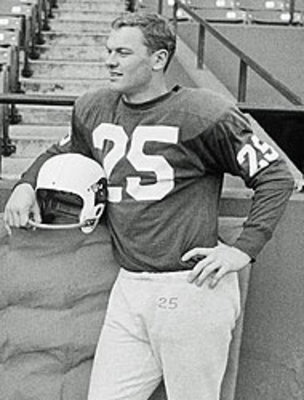 5'11" 200
Kicker
Saint Louis Cardinals
1962 - 1978
17 Seasons
234 Games Played
1,380 Points Scored
4 Pro Bowls
1960's NFL All-Decade Team
1970's NFL All-Decade Team

Bakken was drafted in the seventh round of the 1962 draft by the Los Angeles Rams, but the Rams decided to let Danny Villanueva handle both the punting and kicking duties. The Cardinals picked him up for eight games that year, having Bakken kickoff for veteran placekicker Gerry Perry. Perry retired after that season, thus giving the job to Bakken.

He led the NFL in field goal attempts and conversions in 1964, scoring 115 points, and made his first Pro Bowl in 1965 by leading the NFL in field goal percentage that year. He even punted the ball 26 times for a career best 42.2 yards per attempt average, and also ran the ball the only time in his career for 28 yards.

Bakken punted the ball a career high 29 times in 1966, yet would only have to punt ten more times the rest of his career. He also missed his first extra point attempt in 145 career attempts that season. He returned to the Pro Bowl in 1967, scoring a career best 117 points, and led the NFL in field goal percentage and 27 field goals made.

He made seven field goals in one game, which stood as an NFL record until 2007. Bakken continued being a steady and reliable force for the Cardinals. He had 100 points in 1973, making it the third and final time in his career that he would eclipse the century mark.

Bakken was named to the Pro Bowl and First Team All-Pro in both 1975 and 1976 and the Cardinals won 21 games over that time. He then retired after the 1978 season. No kicker in Cardinals history has attempted or made more extra points and field goals than Bakken, nor has any played in more games or more seasons. None have been named First Team All-Pro or to the Pro Bowl more than him either.

His 1,380 points almost doubles Neil Rackers, who ranks second in points scored in franchise history. Jim Bakken is a member of both the NFL's 1960's and 1970's All-Decade Team, and he is easily the greatest kicker in Cardinals history.

He probably won't get serious consideration into Canton until voters start finally inducting men like Ray Guy, Morten Andersen, and others go in. Yet he surely is worthy.

Garo Yepremian, Gary Anderson, Eddie Murray, and Jim Turner deserve mention.








Return Specialist : Billy "White Shoes" Johnson



5'9" 170
Wide Receiver
Houston Oilers
1974 - 1988
14 Seasons
143 Games Played
337 Receptions
4,211 Yards Receiving
10,785 Total Yards
33 Touchdowns Total
3 Pro Bowls
1975 Pro Bowl MVP
1983 NFL Comeback Player of the Year
NFL 75th Anniversary All-Time Team
NFL 1970's All-Decade Team, NFL 1980's All-Decade Team


Johnson was a 15th round draft pick by the Houston Oilers in 1974. He was the 365th player picked overall despite the initial objections of GM/Head Coach Sid Gillman who didn't want a "midget" on his team.

Johnson made the team as a return man and stood out immediately. He was given the moniker "White Shoes" in high school when he wore the white cleats, as opposed to most wearing black cleats. In his first four seasons, he returned five punts for touchdowns, as well as two on kickoffs.

In 1975, he tied an NFL record with four kick returns for touchdowns in a season. He would celebrate his touchdowns with the "Funky Chicken" dance.

This dance, coupled by his shoes, made him a fan favorite across the league. He was used as a third down slot receiver in multiple wide receiver sets mostly. He caught 113 balls for seven touchdowns his first three seasons.

He was used as a possession type due to the teams offensive scheme, but he also ran the ball for a touchdown. He caught 20 balls his fourth year for three touchdowns at a 20 YPC average. He also took a reverse 61 yards for a touchdown, the last rushing touchdown of his career.

In his fifth NFL season, in 1978, he blew out his knee during the fifth game. He only managed two games the following season due to its lingering effects. In 1980, he returned to be used only as a third receiver and caught 31 balls for two touchdowns.

Disenchanted with his role, he bolted for the Canadian Football League to play for the Montreal Allouetttes. That year in Montreal, Johnson caught 65 passes for 1,060 yards and five touchdowns.

He returned to the NFL in 1982. He signed with the Atlanta Falcons. He played nine games that year and only caught two passes, but was able to return 24 punts at an impressive clip of 11.4 YPR.

"White Shoes" was used as the Falcons full-time punt returner in 1983. He also started at wide receiver. He caught a team and career high 64 passes while scoring five touchdowns total. One touchdown was via a punt return.

He won the Pro Bowl MVP when he took a punt 90 yards for a touchdown, as well as accumulating 159 total return yards. Both are still Pro Bowl records.

Johnson got off to a good start in 1984 by catching 24 balls for three touchdowns, as well as a touchdown on a punt return. He was injured the sixth game of the year and did not return until 1985. He was used very sparingly as a punt returner that year, instead focusing on his wide receiver duties. He caught 62 passes for a career high 830 yards to go with five touchdowns.

Johnson was hurt the following year and caught only six passes and took eight punt returns in four games. He came back to play 12 games the following year and returned 21 punts and caught eight passes.

He left the Falcons, but tried to play for the Washington Redskins in 1988. He played only one game and took four punts, returning three of them for 26 yards. He then retired.

"White Shoes" was named to both the NFL's 1980's All-Decade Team, and to the 75th Anniversary All-Time Team.

He set seven team records in Houston and four in Atlanta and held the NFL record for punt return yardage when he retired. He is still ranked third all-time in punt return yardage in NFL history, and still holds the Oilers' record for punt return yardage.

Johnson may be known to many fans as an innovator of the touchdown dance. He is credited as being one of the first, but certainly his can stake claim to having been the best ever.

Celebrations with more choreography may have been employed since then, but it is much like the students trying to emulate the master. He was not just a crowd pleaser with his dance. He was a premier return specialist who took eight kicks to the end zone in his career.

He also worked hard to become a threat at wide receiver. Others, like Terence Mathis, Troy Brown, and Derrick Mason, have followed similar steps in their careers. Johnson was a very special player who battled through injuries and came back to produce.

One must remember that knee injuries in those days ended, or slowed down, most careers. The surgical procedures used then are a far cry from today's advances in medicine. It took even more determination to return, and a lot longer of a rehab session.

Billy "White Shoes" Johnson may not make every list of guys who should be inducted, but he is on the All-Time NFL Team. This fact, coupled with his stats and the fun he brought to the game, make it a no brainer that he should be inducted into Canton in my opinion.

Rick Upchurch, Mel J. Gray, Michael Bates, Mike Nelms, and John Taylor deserve mention.