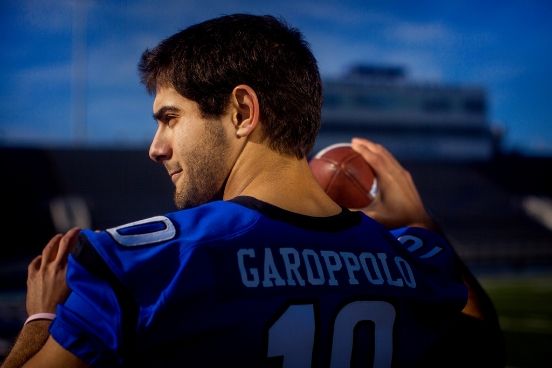 Jimmy Garoppolo QB
Eastern Illinois University
6'3 222 lb.s
2014 NFL Draft

A "nobody" from Arlington Heights, Illinois, well someone no major FBS college wanted. A Senior at Eastern Illinois Univerisity, Garoppolo is a two time Walter Payton Award Candidate. Garoppolo has been the reigning starter since half way through his freshman year where he threw for 1,639 yards, 14 TD's, 13 INT, and a completion % of 58.8 percent, respectfully.

As a sophomore Garoppolo started 11 games throwing for over 2,600 yards with 20 TD passes growing as a passer with a 62.2 completion percentage. In 2012, as a junior, he grew astronomically numbers wise throwing for 3,823 yards with 31 TD passes being not only a FCS leader statistically but also taking his team from 2-9 to 7-5.

Going into his senior season in 2013 most scouts and analyst were focused on Teddy Bridgewater, Marcus Mariota and Derek Carr. With right reason no one draws much interest in the lower regions of the FCS, especially at EIU. So Jimmy Garoppolo really drew some interest when he threw for over 5,000 yards, 53 TD's, 9 INTs, and a completion percentage of 66.0%. While those numbers aren't guaranteed to translate to the NFL level, the potential and obvious signs of annual progress is worth further evaluation, let me begin.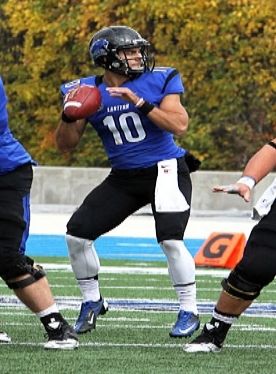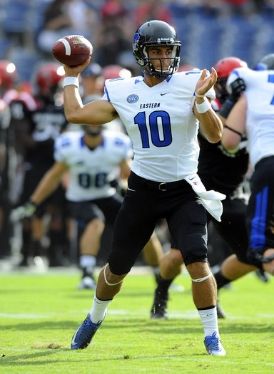 Arm strength: Garoppolo does not have a cannon for an arm. But he has a solid arm that can translate to the NFL level. No, he doesn't have Brett Favre-like arm strength, its more prevalent to guys like Aaron Rodgers or Joe Flacco, pre-NFL. His arm will obviously grow with a NFL strength program as will "most" NFL level QB's. He does show he can drive the ball, at times he "flutters" but overall he gets the ball where it needs to go with a career completion percentage of 62.8%.

Pocket presence: This is something that is an absolute necessity at the NFL level. Garoppolo exercises great awareness and ability to escape and evade a collapsing pocket. He is consistently moving his feet using his elite awareness to detect a pass rush. In his 4 year career he was sacked a total of 94 times, making smart decisions to get the ball out before rendering a loss of yards. He lacks a solid frame so durability could be an issue. But that doesn't begin to over shadow that he is a good athlete with quick feet and a better than average play speed (4.77). He plays mostly from a spread or pistol formation but will line up under center at times. And with quick feet and athleticism to move around in the pocket and his ability to keep plays alive, he can be considered a dual threat.

Footwork: Jimmy expresses a quickness, always shuffling and rotating his his body keeping his head on a constant swivel. Because footwork and awareness is the hardest habit to break, what Jimmy lacks in superior arm strength, he makes up for with excellent footwork. If I were to compare how he's always moving his feet in the right way it'd be a lot like Peyton Manning. Obviously, he's not Peyton Manning, no one is, but Jimmy demonstrates solid footwork with quick feet spells meaning excellent pieces for full body mechanics. WIth great on the move throws its almost too good to pass up. It's far less to work on, on the pro level, when it comes to the word "project".

Arm release/mechanics: Garoppolo has a smooth arm release and a solid over arm movement and he stays consistent when it comes to overall range mechanics. Some say because of his smaller hands a lot of his balls come out a little wobbly, but because of his quick release there is no ill results of his passes. With a definitive passing mechanic he doesn't throw side arm or 3/4 and he doesn't submarine throw like Tebow. He keeps both hands up and moves his lower body fluidly to create such smooth overall arm mechanics and silky clean consistency. He will still force a throw at times, but with only 9 interceptions in 568 throws, he is keeping his mistakes to an impressive minimum.

Leadership: Last but not least, I feel like this has to be a given at the quarterback position. The level of intensity and accountability that Garoppolo expects from his teammates is humbling. From year one at EIU Jimmy knew he wanted change, he also knew it took more than a QB to get them there, and thats what he does, Jimmy pulls the best out of every player on that roster. 2-9, 7-5, 12-2 thats the definition of leadership progress. I personally don't judge a QB by their win/losses, but I make an exception for this case. Jimmy Garoppolo defined himself as successful by wins and losses, not by statistics or awards, I feel like thats a quality you cannot put on paper. (Although I am now..)

While some would consider success at a lower level, a mark against a QB, I do not. Putting the ball in an area for your receivers is irrelevant of talent levels. Making reads, mechanics, and footwork are the tools to success at the next level and Jimmy oozes talent for the NFL level. His confidence and poise is unteachable, footwork is meticulous, and mechanics are silky smooth. So while he lacks Favre and Brady arm strength, there is no doubt he can develop and succeed with the right atmosphere and weapons to further him.

These are simple assessments I've made from basic film analyzations. I'm a huge fan of film breakdown and underdogs. And luckily, this has components of both, so its a win win in my book. I hope I peaked your interest in my most favorable quarterback in this year's draft class. And for those of you that are already familiar with Jimmy Garoppolo, I hope I gave you an even deeper insight of what I see in this QB. I'd love to hear of any feedback or any other players anyone would like me to analyze and review.
For more follow me on Twitter @SGT_Pacman