In my first Installment of the DaleoMock1.0Madness I went in what most would call, "overboard" but I not only factored in a trade between our Oakland Raiders and the Arizona Cardinals but also our supposive dual 6th round Comp picks.

I figured when doing this mock that I don't not know what Reggie and the rest of his team have up there sleeves for this draft or the direction him and Dennis Allen plan to draft. Im not saying this is whats going to happen or what should happen but what I'd do if I was Oaklands GM, but as we all know I am not. Got really irked to see recent drafts and us taking two OL with our first two picks. Just a year ago we had a top tier offense now its total crap? doesn't make sense we had a shit Coordinator and a shit scheme hard to make big PBS guys transition to a ZBS over an offseason, doesn't happen, I targeted defense defense and more defense cause last I checked both teams in the SB have a great defense and we're way too far from where we need to be.

In my installment of DaleoMock1.0Madness I have a blockbuster trade between OAK and ARZ on draft day. Arizona sends there 1st round (7), 2nd(39) and 5th round selections giving us a complete draft to include 2 6th round comp picks and a 7th from Carolina. I don't see this being a huge stretch because of the cause and effect of Geno Smith and Joekel. We hold the power at three and I hope to see us deal but whatever our organization does, trade down or stay at #3 I trust our direction, I just enjoy options and without further adue heres DaleoMock1.0Madness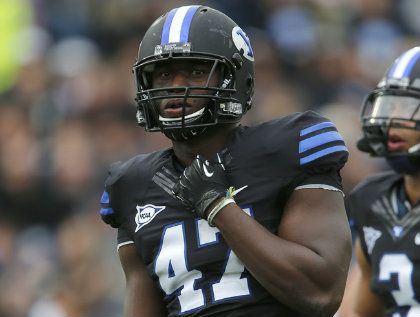 Round 1: OLB/DE Ezekiel "Ziggy" Ansah BYU(Via Arizona)
I love this pick IF we decide to trade down, "Ziggy" has a nasty nose for the ball! Has a relentless motor and could ideally be the BEST compliment to Houston as possible. We all saw at the Senior Bowl game how aggressive and relentless Ziggy was. Not only in the pass rush but even throughout the run game as well. I could see an instant upgrade on the DL and that weapon Jason Tarver has been fending for.Playing in all 13 games (but starting just nine of them), Ansah registered 62 tackles in 2012, including 13 tackles for loss and 4.5 sacks. Ansah likely would have registered more sacks (he had team-high eight quarterback pressures) if not for the Cougars boasting another terrific pass rusher in junior outside linebacker Kyle Van Noy (13.5 sacks).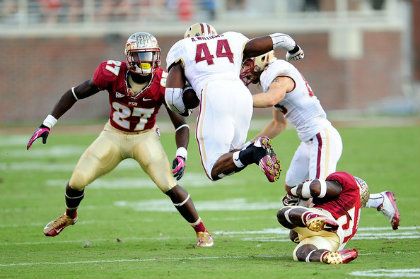 Round 2: CB Xavier Rhodes FSU(Via Arizona)
As you all saw this season our defensive backfield looked abysmal all season, although we seemed to have found a few gems, I would want nothing more than drafting the best available player at this pick in the second round.Rhodes has great measurables and a great upside starting in the ACC throughout college. I think this pick just makes sense and fills an obvious void on the defensive side of the ball.He tied for the team-lead in interceptions (three) in 2012, giving him eight over the past three seasons, and earned first-team All-ACC honors. He put up solid numbers despite teams largely staying away from Rhodes' side of the field.Id probaly be more savvy to Desmond Trufont but I don't see him falling to us in the second.He is confident and instinctive in coverage, coming off his man to make a play on the ball with very good ballskills. Rhodes does a nice job defeating blocks to be a factor against the run and is a punishing striker, making the decleating hit if it's there.He has very good experience with 39 career starts, finishing his collegiate career with eight interceptions and 31 passes defended.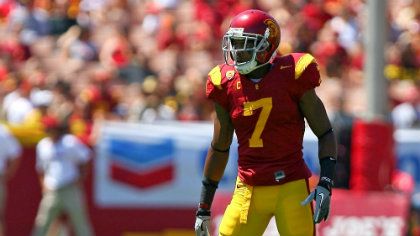 Round 3: CB TJ McDonald USC
Im actually a bigger fan of Poyer out of Oregon ST but I don't see him on the board this late , so McDonald comes to mind! I love how he's in on every play no matter what! He's got great leadership skills and I guarantee he starts over Huff day 1! Im actually a Huff fan but I see McDonald and Branch as the hardest hitting safeties in the league! I know the cap hit on Huff wouldn't be worth the release but Im positive someone would send us a future 3rd,4th or 5th rounder at least for his skills or leave Huff as a high paid depth until his tenure with us is up.A great pick for us in round three!He quickly rose up to a starter at free safety in year two, leading the team with 89 tackles, while also contributing three tackles for loss, a sack, seven passes broken up, three interceptions and a blocked kick. Though his statistics (67 tackles, 2.5 TFL, five PBUs, three INTs) didn't blossom in his second season as a starter, McDonald proved to be a more consistent all-around defender, leading to speculation that he could develop into one of the elite defenders in the entire country in 2012.

Round 4: DT Kwame Geathers Georgia
This big mamajamma! Could you see it? Ansah/Bryant/Geathers/Houston with the rotation of Tollefson/Carter/Crawford/Buliki now thats a deep trench that Id love to see every Sunday! I think adding big body Geathers would immediately grab the attention of every OL to try and move that mountain! Geathers himself wouldn't be racking up Pro Bowl numbers but he would give Ansah and Houston more wiggle room as well a some imagination for the mad scientist Jason Tarver to enforce that defense he wants.The massive 6-6, 355-pound Geathers played in all 14 games in 2012, finishing with 40 tackles, including five for losses and a sack. Rather than step in as a full-time starter in 2013, Geathers joined a slew of Bulldogs who opted to test the NFL waters by forgoing his senior season.

Round 5: RB Kenjon Barner Oregon(Via Arizona)
Don't get me wrong I love our three headed monster with McFadden/Goodson/Reece but why not four? Is an immediate threat when he gets on the field especially when he's catching the ball out of the backfield! I look at Barner as an underdog, a kind of under-appreciated back, yea he's not a big back and we don't know how hell do in the PBS but I really think a change of pace type back, H-back type of role would really give Palmer another weapon on 3rd down or on a screen play, I just see it adding another depth to our game in Oakland.STRENGTHS: Shifty runner with the stop-start-go ability to shake defenders in tight quarters and break free for long gains. Possesses excellent straight-line speed and is a threat to score every time he has the ball in his hands. Quick to the hole and shows very good vision to set up his blocks at the first level and downfield. Natural runner who can lull defenders to sleep by changing his gait and then exploding past them to ruin pursuit angles.Reliable hands as a receiver out of the backfield and as a returner. Experience returning punts and kicks (has returned one of each for a touchdown) and has the vision and running skills to remain in this role at the NFL level.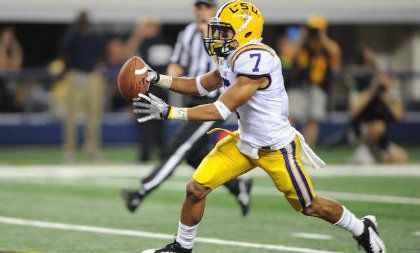 Round 6: CB Tyrann Mathieu LSU(Comp Pick)
I love Mathieu's play! notice how I didn't say Mathieu himself. Although I don't see this pick really happening Id love to see Tyrann returning punts or returning a pick six from the Nickel! Not a great zone guy but obviously has loads of potential and I still see more talent in him than Lee or Bartell and if anything just a great playmaker for ST or on defense, has really good speed and focus ON THE FIELD Could rotate in the Nickel or Dime or be a diamond and start opposite of Rhodes! I see great reward low risk with this pick just because of his ability to play football. Mathieu's big-play ability was also evident on punt returns, as he ranked second in the nation with a 16.2-yard return. He was named the SEC Championship Game MVP against Georgia after he returned a punt 62 yards for a touchdown, posted four solo tackles and recovered a fumble.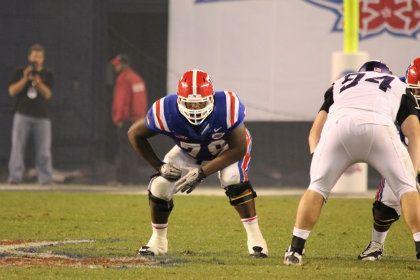 Round 6: OL Jordan Mills Louisana Tech(Comp Pick)
I love Jordan Mills I saw a side of him I thought Id never see at the SB, shut Margus Hunt down that day and had his way with most of the lineman in Mobile,Alabama. We need an OT and honestly I see so much value in the later rounds why not wait and pick Mills up with one of our few Comp Picks? I say this is nothing but upside, bring in a Veteran for a year and let him grow the right way.I Like this pick a lot I see a lot of talent in the big framed tackle.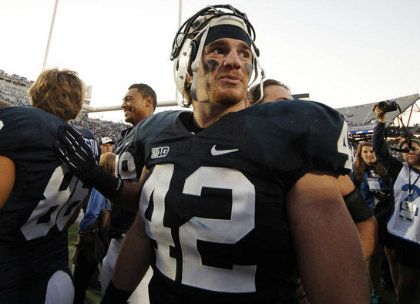 Round 7: LB Michael Mauti Penn ST
I like Mauti cause I know Reggie likes Mauti. Has great leadership qualities that we need in a linebacker. Although I don't see Mauti as an instant starter, he could have that heart in preseason to get the job. Id love to see Mauti/Burris in the midfield I think thats a strong core a centered gentlemen. A lot of strength and speed there and I would not complain if he fell to us this late.A semifinalist for the Butkus Award, Mauti ranks in the top 10 in the Big Ten in tackles (7th, 96), interceptions (4th, 3) and forced fumbles (3rd, 3). He also leads the Big Ten in interception return yards (125). Mauti has 4.0 TFL, 2.5 sacks (minus-25), three interceptions, three forced fumbles, one fumble recovery and two pass break-ups. The former Mandeville High School standout started the initial 11 games, suffering a knee injury in the first quarter vs. Indiana on Nov. 17 that ended his season. His numbers speak for themselves, he has the qualities Id like to see wearing silver and black.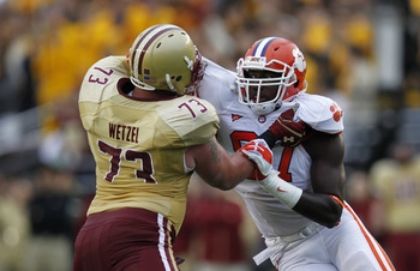 Round 7: John Wetzel Boston College(Via Carolina)
Another lineman off the board I really like Wetzel, (obviously I just mocked drafted him) Listed at 6-8 and 303 pounds, Wetzel has the frame and length to engulf blockers and, despite heavy feet, he uses his wide base and wingspan to cover a lot of ground. He does a nice job driving defenders off the line of scrimmage and can redirect players in the run game.


Well there you go, In my opinion a solid draft that fills some voids, adds some depth and gives a little more leadership as well as longevity towards the future. With a few key additions in FA I can seriously see a big turn around in all areas of Oakland Football. Id love to hear any suggestions or changes, were all on the same side and love to hear what you guys think.