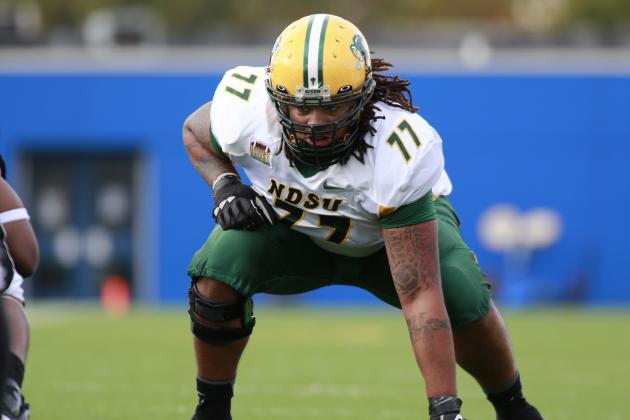 Im back Raider Nation, now that Free agency is starting to take shape, The priority needs for Oakland are becoming more obvious. With the Rodger Saffold signing going sour, LT is now a major problem. even if the raiders do bring in a veteran LT, there will still be a huge question mark at that position. Menelik Watson has potential at that spot, but how has he developed so far? and can he stay healthy? If we were to get a veteran, it would make getting a LT later in the draft a better option. guys like antonio Richardson and James Hurst would be good options, but there is another guy that is high on my list that isn't getting any recognition with the nation, and that is LT Billy Turner from North Dakota St.. I have this guy as the ultimate sleeper in this draft. he has had major success in college and looks to prove it in the pros. he has a great athletic ability, with the size to be dominant.
If you missed my last post (which was awhile ago), CLICK HERE
Billy Turner
Height: 6'5
Weight: 315
arm length: 34"
League: FCS
Conference: Missouri Valley Football Conference
40-time: 5.16
Bench Reps: 25
3-cone drill: 7.92
20-yard shuttle: 4.71
Games Played: 57
Games started 56
sacks allowed: 60
Projected Round: 3
Position Rank: 9
Billy Turner is probably one of the most athletically gifted LTs in this daft. He has the speed to get to the second level and the size & strength to stop Pass rushers i n their tracks. Turner is also a very versatile OL as he played LT all his 4 years in college but was moved around from LT to LG during the Senior Bowl, and he excelled.
Turner started as a true freshamn and helped North Dakota St. to a 1000+ rushing yards he started 12 of 13 games that year. During his sophmore year, he started in 14 games He was Part of an offensive line that provided protection for quarterback Brock Jensen, who has completed 219 of 326 passes for 2,534 yards, 14 touchdowns and once again helped the Bisons reach another 100 yard rushing season. Turner was named All-MVFC Second Team
Turner's Junior year was where he started to make a name for himself. he was named All-MVFC first team and FCS all-american first team. He started in all 15 games and helped NDSU lead the conference in scoring (31.4 avg/g) and rushing offense (178.0 avg/g).
His senior year was even better. he started all 15 games and GAVE UP ZERO SACKS. Turner graded out at 90% for the entire season. he had 10 knockdowns in a win against Southern Illinois and 10 knockdowns against Kansas St.. he also helped the Bisons have two 1000 yard rushers for the 3rd straight year and was named FCS offensive lineman of the year and FCS all-american first team.
Turner projects as Tackle but with his athletic ability, he can also play guard. during the senior bowl he was seen playing LT, RT,LG and RG. showing better movement on the left side of the line.
here are a few scouting reports about our good friend Billy Turner
Bleacher report by: Alex Dunlap
Very tight and sprung musculature throughout. Possesses a terrific upfield motor in the run game.Uses a very long 81-­inch wingspan to push and shove and reach block as necessary.Displays outstanding toughness and a clear desire for contact. Played in mostly man-­power concepts Excellent hand placement when engaging. and Punches up into the armpit, then shoves up and through as opposed to out and away.
Withthefirstpick.com
Turner is listed at 6'6" 314lbs with a good build for the position. He carries a little bit of extra weight around his midsection, but he has pretty good strength, ballast, and solid feet. Turner is able to move well forward and accelerate pretty well. Turner can move well and is a pretty fluid athlete for the most part. He does a nice job when he mirrors in protection and seems to be able to move as fast as he needs to in order to protect the edge. Turner is able to pull and get to the second level without too much issue. Turner is extremely aggressive and plays with a mean streak, more than happy to try to get pancake and knockdown blocks. He can generate power in a small amount of space, has a good first step and will occasionally crumple the opponent in front of him. When he plays behind his hands, he can be a force and move opponents down the field as well as lay a devastating hit on an opponent in space. He has shown he can bend at the knee and get low but does not do it consistently and will bend at the waist a little too much at times, which can get him off balance at times. Turner is more of a work in progress in terms of his pass blocking, but he does show some qualities that make him extremely attractive as a prospect. He mirrors extremely well and is able to hand speed well. Turner is able to use his hands well and has the power where he can shield opponents out from the play or use power and push them out of the play. he handles power extremely well and becomes virtually immovable with the potential to crumple his opponent. He clearly has the ability to do it, but the vast majority of the time, he is playing too high. Turner does a pretty good job with his hands. Occasionally, he will get too far inside and allow opponents to fall off, but that is usually a case when he is blocking an opponent from the side. Turner is perhaps more fitted to play in a power scheme, but he can play in virtually any scheme with work. Turner checks in as a potential starter to rotational backup.
.