Tomorrow is the big day, where 32 young athletes have their lives changed forever. It is a big step in their upcoming NFL careers and we wish them all the best (but mostly to the ones that get drafted by Oakland). I didn't want to make a Mock draft, but I got over it. It was hard to think about all the players, and where they would fall. I looked at this Mock Draft as if I were the GM. I did not use any trades since it's too much to deal with. anyway, lets begin
Round 1: 5th overall pick
Aaron Donald, DT, Pittsburgh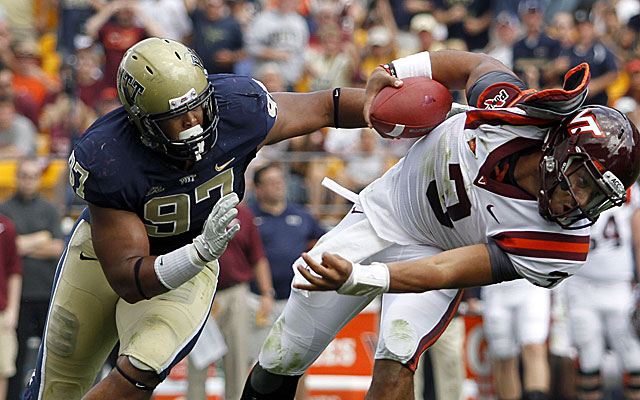 It is no surprise to some of you to see Donald picked here. I am a huge fan of this kid, and unlike some of the NFL scouts who put a huge penalty on his size, I see Donald as a top 5 player. He has amazing acceleration and speed. he ran a 4.62 40 yard dash at the combine at 285 pounds which was #1 among DTs the closest 40 time was Brent Urban at 4.90 seconds, so that should tell you how rare of a talent Donald really is.. But he is not just fast, he is strong as well, bench pressing 255 pounds 35 times, which was 2nd among DTs. so you have a guy who has the strength of a normal sized DT with he speed of a linebacker. this what make Donald so versatile. In Pitt. he was seen making plays at the DT and DE spots, using that strength to knock down guards and his speed to run past tackles. he is a force wherever you put him. Donald also has the best hand technique than anyone I've ever seen, coming out of college. he will need very little coaching and would be a day 1 starter for the raiders.
Round 2: 36 overall
Davante Adams, WR, Fresno St.
Among all the round 2 WRs in this class, I believe that Davante Adams has the highest potential. this kid is extremely athletic. even though he is 6'1, he plays like he is 6'5. with a vertical jump of 37', his height is not a problem. at Fresno St. he was a play maker.showing very soft hands and great acceleration to blow past CBs off the snap. his route running could use a little work but its not that bad. at the combine, he ran a disappointing 4.56 but at his pro day, he knocked his time down to 4.51. It wouldn't surprise me that when rookie camp comes along, he will be running in the high 4.4? One thing like about Adams that I look for in my WR is elusiveness in open space. Adams an make defenders miss, elusiveness is something you cannot teach. it is all instinctive and that's what make sammy watkins so coveted. Adams was double covered often during his short time in Fresno but he was still able to break 1000 yards for both of his seasons with 1312 and 1`4 TDs his freshman year and 1,718 yards and 24 TDs his sophomore year. the kid is a play maker, and more importantly, is a TD factory
Round 3: 67 overall
Jimmy Garoppolo,QB, Eastern Illinois
Here is your QB that you have been waiting for. Jimmy G. may not fall this low, but then again he may. If there isn't a run on QBs early in the first, then Jimmy Garoppolo could fall to us ealry in the third. it has been reported that only manziel and Bortles could be taken in the first, with Carr, and Teddy leading the pack for the 2nd round. also when you put together that A.J McCarron is rated higher and this is with Mettenberger still on the board. Is it difficult? maybe. but is it impossible? Absolutely not! Jimmy G. has amazing footwork and extreme confidence in his abilites. he had record numbers at Eastern Illinois, throwing for 5,050 yards with 53 touchdown passes and nine interceptions. he doesnt have the biggest arm in the class but he is amazingly accurate, and smart with the football. he knows when to put zip on the ball or put some touch underneath. he can read defenses as good as anyone in this class. let me just say this, if Garoppolo had gone to a bigger school, he would be a 1st round talent.
Round 4: 107 Overall
E.J Gaines, CB, Missouri
Say hello to one of the best CB tacklers in this class. As a CB it is your job the cover the WR, but when the receiver does make the catch, you gotta tackle, because if you miss, that kid is gone. the raiders corners had a bad time last year making tackles in open space. this is what E.J brings to the table. he does not shy from contact, although he ,may not deliver the big hit, he gets the job done. I'm ok with that, I pay him to play CB, not Safety. when it comes to coverage skills, he is mostly zone but he has the speed and fluidity to be taught more Man to Man techniques. Gaines played well for Missouri in 2013 with 68 tackles with five interceptions and three passes defended. Late in the regular season, he came up with some huge games. Gaines held Texas A&M wide receiver Mike Evans to only four catches for eight yards. He had 74 tackles with 11 passes broken up and two interceptions in 2012. In 2011, Gaines was an All-Big XII selection with 69 tackles, three tackles for a loss, one forced fumble, 16 passes broken up and two interceptions.
Round 7: 219 Overall
Aaron Lynch, DE, University of South Florida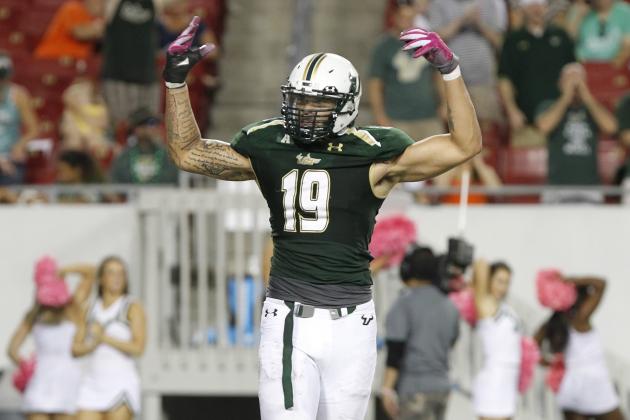 The story of Aaron Lynch is known throughout. Once considered a top, prospect, is now a shell of his former self. OR IS HE? Lynch is very athletic, runnning a 4.69 40 time at his pro day is very good. he has a great first step and explosion off the ball. the only thing keeping him from going to that next level is his technique and his motor. his technique is not sound. he mostly tries to use his athletic ability to outrun the tackle. when it comes to his motor, it does not get good MPG. when it runs, it runs high, and then it quits for the rest of the game. Lynch is inconsistent and will need coaching, but at this stage of the draft, who doesn't? due to his faults, his stats have digressed since 2011, where he played really well with Notre Dame, recording 33 tackles, seven tackles for a loss, 5.5 sacks and a forced fumble. he was forced to sit out the 2012 season and in 2013 played for USF. Lynch recorded 29 tackles with 11.5 tackles for a loss and five sacks in 2013. while the tackle for loss sat is nice, the total tackles number is very disappointing. Maybe a change to linebacker would do him some good since he is fast enough and is the perfect weight (249 lbs) to do it, not too mention his strength is not good enough to play at the line.
Round 7: 235 Overall
James Hurst,G/T,North Carolina
James Hurst is a very versatile player. The left Tackle out of North Carolina was considered a day 2 selection in the beginning of the season, but he had broken his leg during their bowl game, and did not participate in the combine or his pro day. his stock has now fallen to the 7th round, but that does not depict his talent level. Hurst has very good size at 6'5 296 lbs. he takes good angles and excels as a run blocker. He started all 4 years at North Carolina and has been relatively healthy his whole career, playing every game except the bowl game where he was injured. the main problem with Hurst is not just his injury, it is the fact that he is not as athletic like normal Tackles. he is very slow, with average agility. this is the reason many scouts believe he would make a good guard. he has the strength and the height, all he needs to do is add weight and continue working on his already decent hand technique. he may be a guard in the NFL, but his LT experience makes him a versatile lineman. he could eventually fight for a starting job, but would be good depth this coming year.
Round 7: 247 Overall
Derrell Johnson, OLB, Eastern Carolina University
Probably the biggest sleeper in this draft. Don't worry if you have not heard of him, you have now. everytime I watch this kids tape, I can not help but be impressed. he has amazing speed with a 40 time of 4.61. along with good athletic ability with his 32' vertical and benched 255 lbs 23 times, which is quite good for a linebacker. Johnson is very instinctive and knows how to rush the QB. He is an experienced four-year starter. Johnson Flashes shock and violence in his punch. Jars tight ends and slot receivers off their routes. Swats big blockers and plays with tenacity. Can convert speed to power and uproot blockers. this kid could surprise everyone and be an absolute monster. in 2013, he had 79 tackles, 13.5 tackles for loss and 7.5 sacks. Because he plays in the FBS is the reason why many people do not have him on their radar.