Bruce Gradkowski is "Punctual." That's the word used by KNRB 680/1050 AM's "The Razor and Mr. T show."
"We are a good football team and the only thing we have to work on is being consistent and that's going to be the number one goal this year," said Bruce Gradkowski, the fan favorite choice to be the starting QB for the Oakland Raiders this year.
"I know no different than to be a blue collar guy, to work hard…but if you just keep working hard, good things will come, and you'll get what you deserve," said Gradkowski.
"In my heart, I wanna be in Oakland and I believe I'll be in Oakland and I wanna be here for years to come. I just feel a good presence here, especially with the fan base we have. It's the best in football, and they care about their team and I wanna give them something to look forward to."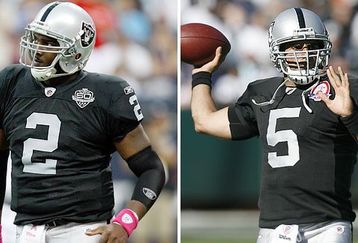 Well, hell at least somebody in the huddle is looking for more than just a paycheck. Gradkowski is a sixth round draft choice who was brought into Tampa Bay under head coach Jon Gruden in the sixth round of the NFL draft.
While many fans of the team are disgruntled, thinking that when head coach Tom Cable said they would have an open competition for the QB position meant that Al Davis would decide the choice based on paychecks, Bruce welcomes the challenge saying, "Competition just makes you better, and the best person should be out there for the job…I'd love to get it from the start and see what we can do with it."
It makes you wonder why Gradkowski couldn't have been a part of this team in 2006, the year before JaMarcus Russell was taken number one overall in the draft.
Of course, back then, Gradkowski was not even close to the household name he has developed in Oakland as of late. He was a little known QB out of Toledo by way of Pennsylvania. He was fairly well known around the Pittsburgh area though as the QB who broke a lot of passing records in his high school conference including records set by Joe Montana, Joe Namath, and George Blanda.
Gradkowski was asked what the difference is between a guy like him who plays mostly on heart versus a guy like JaMarcus Russell who appears to have natural skills, but is widely known to have bad work ethics.
"If you can find a way to win, that's all that matters, it doesn't matter about how much skill you really have, it's about 'Does your team rally around you?' 'Do you get the job done?' 'Are you smart?' and the leadership role and I think that's one of the most important parts about being the quarterback."
"I came into the NFL wanting to be a starting QB in this league, a proven starting QB, and I still have a longs ways to go, but those are my goals."
Those may be goals that JaMarcus Russell shares, but he has yet to show it as far as that is concerned. In his three years with the Raiders, Russell started 21 games and almost all of his stats are dismal, including his 2009 stats which included only three touchdowns versus 11 interceptions, a QB rating of 50.0 out of a possible 158.3, and a completion percentage of a mere 48.8 percent. Not to mention that he fumbled 16 times and lost nine of them.
Compared to Bruce Gradkowski, who has only played one year with the Raiders and started in four games, Russell's stats make him look like you wouldn't want him running your third team offense in practice.
In his four starts, Gradkowski had a 300 yard passing game with three touchdowns against the defending Super Bowl Champion Pittsburgh Steelers that earned him AFC player of the week honors, a QB rating of 89.3, while throwing for six touchdowns and only one interception with the exact same offense as Russell had.
Gradkowski went on to say how he likes to use his legs to make plays. "The more I get hit in a football game, the more I feel a part of it, and it makes me play better," said Bruce. "Being the competitor that I am, the last thing you're thinking about is staying healthy, its how I win, how do I get this next first down?"
Gradkowski also expressed how optimistic he is about the possible opportunity to continue the continuity the Raiders started to establish last year when he was their starting QB.
"Mr. Davis just wants to win, he wants the best for his players, and I think that's what he's trying to get done and I think right now we have a very good setup in the coaches and players around us. I'm very excited for this year and I'm hoping that our fans back us from day one, because we can use them and we need them to be a part of this year and be a part of this thing when we turn it around," said Gradkowski.
Moving on from Gradkowski for now, I'd like to ponder another QB situation.
Recently, ESPN's AFC West blogger, Bill Williamson, said that the Raiders ought to look into Derrick Anderson as a potential QB prospect, referring to Anderson as "former Pro Bowler."
Yuck, I'd rather eat raw sewage from the Alameda County Coliseum after a pro football game than watch Derrick Anderson come anywhere near my favorite NFL team.
My big question is, when former Hue Jackson coached QB, and Heisman trophy winner, Troy Smith is available for a fifth round pick and Oakland has two fifth rounds picks available to them, what the heck is the holdup?
I mean, come on Al Davis, this is pretty much a no brainer. And come on rest of the NFL, this guy is going to be a fantastic QB for some team one day, and those words are golden, take them to the bank, he has the ability to win championships inside of him, and I've recognized it since I watched him play in college.
Unlike Tim Tebow, when Troy Smith returned to school for his senior season, he actually did improve his throwing capabilities to the point that he won the Heisman Trophy. In my opinion, Troy Smith was a huge steal when Baltimore got him in the fifth round, and if Oakland had drafted him number one overall in 2007, I'm sure we could've been a playoff team by now.
But that's just my opinion, I could be wrong.